Adena Health Focus, Services & Specialties
Adena Urology and Oncology: Your Wingmen in Fighting Prostate Cancer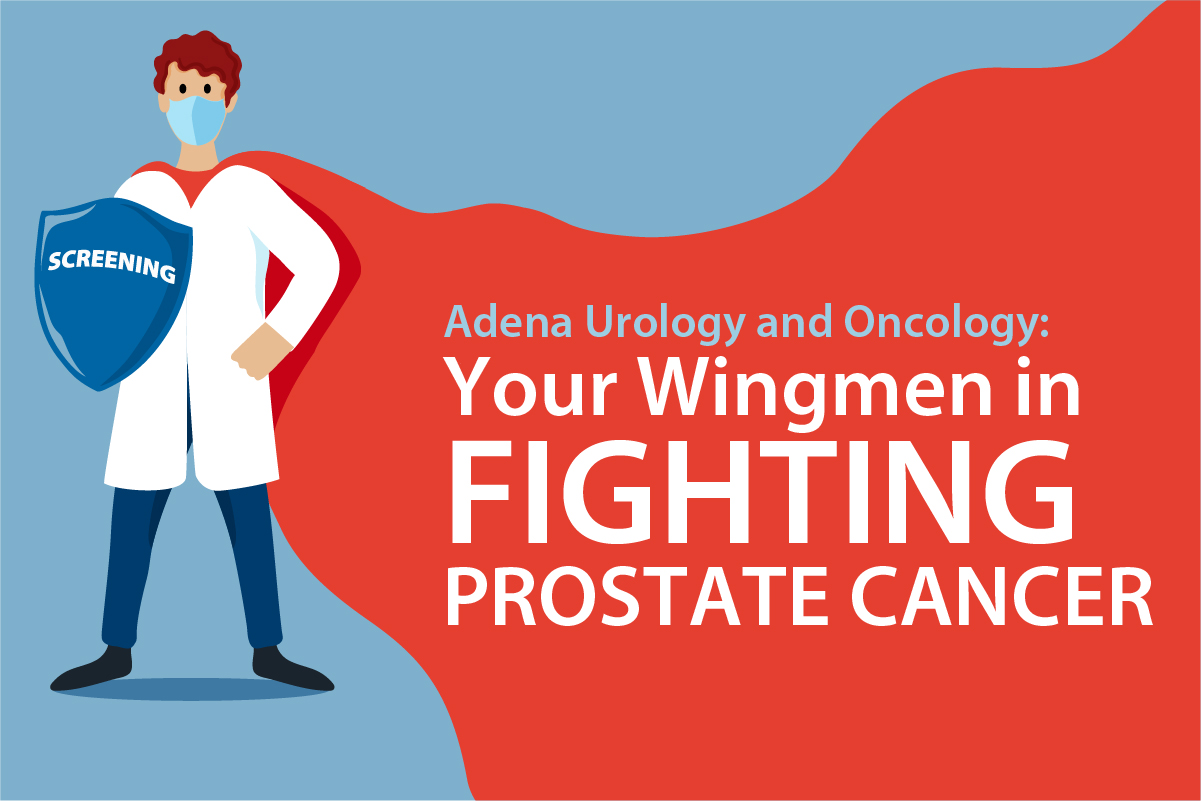 Prostate cancer is a common cancer, second only to skin cancer for men. According to the American Cancer Society, there are roughly 248,000 new cases of prostate cancer diagnosed in the U.S. each year with approximately 34,000 of those cases resulting in death. It's the second leading cause of cancer death for men behind lung cancer. "Although the incidence of prostate cancer is high, with the standard treatment options of surgery or radiation therapy, outcomes are very successful," says Matthew W. Christian, MD, Adena Urologist.
The prostate is a walnut-sized gland that produces seminal fluid in men. If cancer cells develop, this could lead to an elevated prostate-specific antigen (PSA) level which may be an indicator of potential prostate cancer. Symptoms can include difficulty urinating, blood in urine or semen, bone pain, unexplained weight loss, or possibly no symptoms at all. This makes PSA screening critical for men ages 55 and older, and possibly sooner if a patient has symptoms, or risk factors like family history or African American race. Dr. Christian and the Adena Urology team will likely recommend further testing or a biopsy for patients with a PSA level of 4 ng/mL or above. "Each patient is different," says Dr. Christian, "Fortunately, most prostate cancer is relatively slow growing. If we find we do find cancer in the biopsy, we assess the grade of cancer, patient health, age and other risk factors in order to set the best treatment course." In some cases, treatment may just mean active surveillance, or it may require more aggressive therapies or surgery.
Once a diagnosis of prostate cancer is confirmed, the Adena Urology and Oncology teams work together to quickly set a course of treatment. They present the patient's case to the Adena Multidisciplinary Tumor Board which meets weekly to thoroughly evaluate and assess the best treatment options for patients. Adena also pairs each prostate cancer patient with an Adena nurse navigator. The nurse navigator is the immediate "go to" person for the patient and helps guide patients through appointments, x-rays, insurance – anything that is needed to help the patient through their treatment and making sure they receive the appropriate follow-ups.
The standard treatments for prostate cancer are either surgery (radical prostatectomy) or radiation therapy. Dr. Christian often performs a robot-assisted laparoscopic radical prostatectomy in order to increase precision, reduce blood loss and improve recovery time compared to traditional open surgery. A patient's hospital stay is usually one to two days. After surgery, most patients will require no further treatments.
Some patients will opt for primary radiation therapy to treat prostate cancer. The radiation oncologists at Adena utilize the latest technology to precisely treat prostate cancer and avoid toxicity to other organs. Surgery or radiation therapy are equally effective in treating prostate cancer which provides patients the ability to make a personalized choice in their care. Finally, surgery or radiation are not always required for prostate cancer which is why the Adena Urology and Oncology teams work together to determine the best care path for their patients. Many patients can be followed with just periodic surveillance.
"As for many types of cancer, screening for prostate cancer and early detection is key to effective treatment and long term outcomes," says Dr. Christian. Adena Urology offers leading, comprehensive care for regional patients with all types of urological needs. Adena physicians are accessible to patients and dedicated to the mission of serving our communities. Should you experience symptoms or be a candidate for screening, tell your primary care provider or call Adena Urology at (740) 779-4370.