How Well Do You Know Mohs surgery?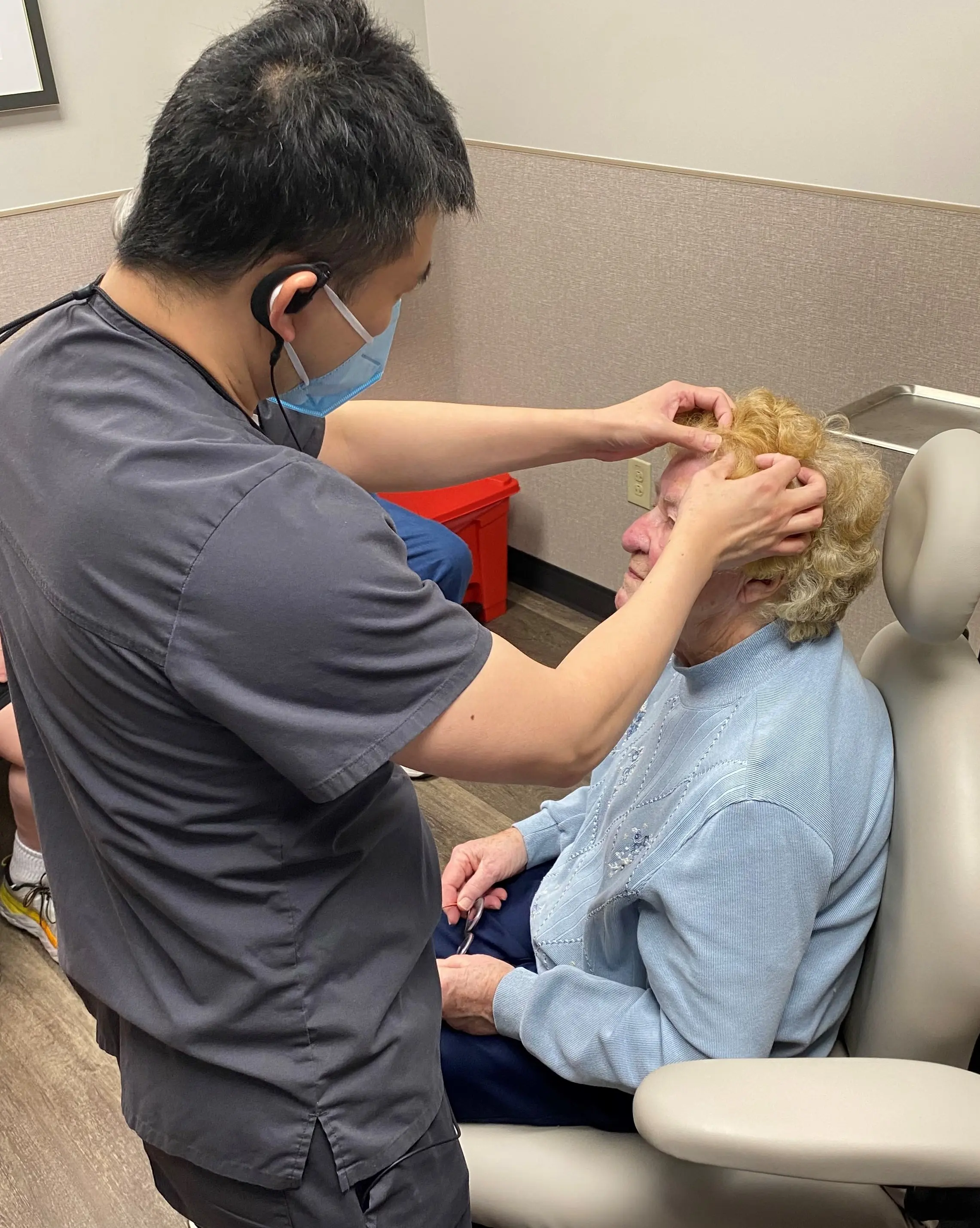 Drs. Lewis, Chang seeing greater volume due to skin cancer prevalence
When 92-year-old Frances Welch and her two daughters returned to Adena Regional Medical Center for her three-month check-in recently following completion of her Mohs surgical procedure with Dr. Li-Wei Chang, it had all the feeling of a family reunion in the exam room.
Hugs were exchanged, gifts were presented, and there was plenty of laughter as Frances learned that the procedure to remove all traces of skin cancer from her nasal area was successful.
Mohs surgery is a way to remove biopsy-proven skin cancer within a clinic setting using a local anesthestic rather than having to put the patient under in an operating room.
"It's nice because their families can be with them, they can be ambulatory, they can eat, it's not like being put under anesthesia," said Jennifer Kelly, clinic manager for dermatology.
Dr. Chang became Adena's second Mohs surgeon in September, joining Dr. Thomas Lewis in performing the state-of-the-art procedure for addressing cancerous skin tumors primarily around the head and neck area.
Patients are primarily recommended to Dr. Chang and Dr. Lewis by members of Adena's dermatology team if they spot signs of skin cancer in biopsies. The physicians will then identify the clinically visible tumor and remove it layer by layer, taking that tissue and checking the tissue around the tumor in the lab the same day while the patient waits in the room. If more cancer is discovered, they can go back and precisely take small pieces of that remaining tissue in an effort to completely eradicate the cancer while saving the healthy tissue around it.
Once the cancer is confirmed as gone, another stage of treatment follows that involves reconstruction of the affected area through a skin graft or some other option.
Because of where Frances' cancer had manifested itself, her reconstructive procedure was a bit more complicated than most.
"The case we have here is a patient who had a large tumor in a cosmetically sensitive area, her nose," Dr. Chang said. "That requires a very complex repair that takes three stages to take care of. We don't have to send that type of sensitive work out now to plastic surgeons or others who do reconstructive work, we can do that here and the staff does it with passion and professionalism."
This wasn't Frances' first experience with skin cancer tumors. She'd had two others that were able to be frozen and taken care of, but that treatment wasn't effective on her latest one. That's when she was referred to Dr. Chang, assisted by care team members Kim Jones and Jessica Profitt.
"I never had a doctor who treated me the way he did," Frances said. "He was wonderful. He called me several times over the process to check and see how it was going, and he and Kim also told me if I was hurting to not be hesitant to call because there was no need for any pain. He even gave us his cell phone number, he was really good about that."
Following the tumor's removal, Frances' reconstructive process involved what is known as a forehead flap, considered the "gold standard" of nasal soft tissue reconstruction. The procedure requires significant aftercare as the patient heals. Having Frances' daughters involved, not only in helping get her to appointments but also to help her change her dressings at home, was invaluable.
"We did training with them and showed them how to do the dressing changes," Profitt said. "We would do it while they were here until they were comfortable with it."
The results, not only medically but in the obvious personal connection between the patient's family and her care team, were obvious at her three-month follow-up. Visibly, there was no sign on Frances' face of the process she had just been through. Emotionally, there were the hugs, the questions about what other family members were up to, the gifts from Frances' daughters to the care team that have become a regular way for them to express their appreciation. On this day, it was several pairs of medical-themed novelty socks.
Jones, in fact, had not been scheduled to work the day of Frances' follow-up visit, but stopped by anyway because she wanted to see her patient and catch up with the family.
Dr. Chang said the role staff members like Profitt and Jones play is important for success. Not only do they do a great job getting information to patients prior to the first visit, but also serve as a comfort to patients and their families during long days that can be part of the procedure.
Adena has been performing the Mohs procedure since Dr. Lewis joined the Adena family. The case volume had become so great, Kelly said, that a second Mohs surgeon was needed, resulting in the addition of Dr. Chang.
Between the two surgeons, Adena handles around 16 to 18 cases each day, with many of the referrals for Mohs coming from dermatologists.
Clinical studies have revealed that the surgery minimizes the chance of re-growth of tumors and lessens the potential for scarring or disfigurement while at the same time effectively protecting the healthy tissue around the tumor.
Symptoms of skin cancer

A lump, spot, or mole that is shiny, waxy, pale in color and smooth in texture
A red lump, spot, or mole that is firm
A sore or spot that bleeds or becomes crusty or doesn't heal
Rough and scaly patches on the skin
Flat, scaly areas of skin that are red or brown
Any new growth that is suspicious