Adena Caregivers Support Sexual Assault Awareness Month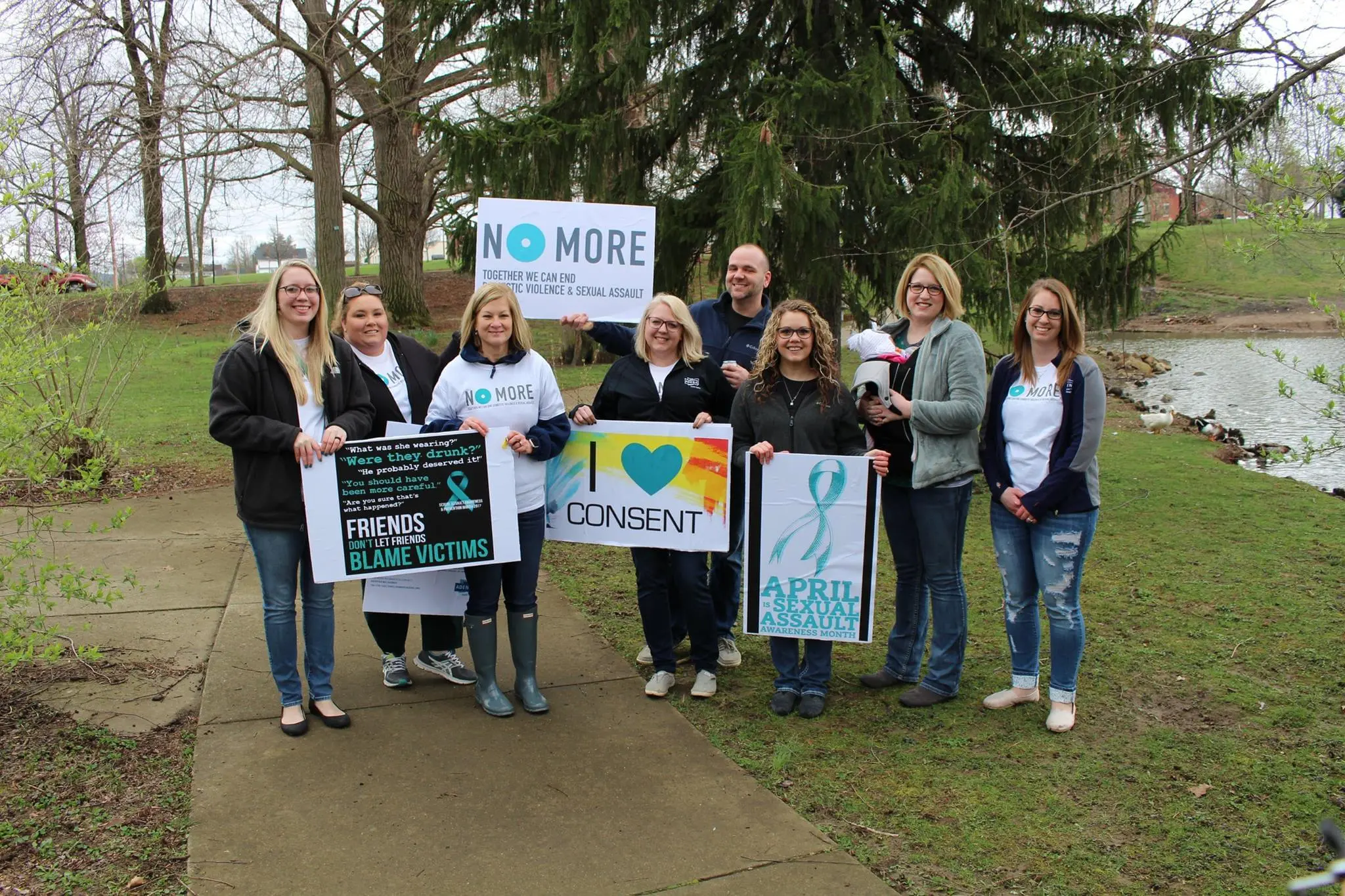 This month, Adena's Sexual Assault Survivor Advocates and Nurse Examiners are building on the powerful #MeToo and #Time'sUp movements to recognize National Sexual Assault Awareness Month and to continue to empower women, children and men, who have experienced sexual violence to speak up.
The group offers survivors comprehensive advocacy services starting in the Emergency Department, while also providing trauma informed services, medical advocacy, resource linkage and referral and safety services, and shelter placement.
Starting April 19th the group will be offering Helping Other Women (HOW), a peer-to-peer support group for survivors of domestic and sexual violence. The group will be meet the 3rd Thursday of each month at the Carver Community Center from 6-8 p.m.
"Advocacy is about motivating change within a community," said Nicole Bullock, Adena Sexual Assault Survivor Advocate Program Coordinator. "Drawing attention to such an important need within our community is at times hard to face, but it is very much needed.
Advocates Now Serving Highland County
Within the last year, Adena's Sexual Assault Survivor Advocate and Nurse Examiner programs have served more than 230 victims at Adena Regional Medical Center. This includes 12 human trafficking victims and 160 sexual assault patients, of which more than 100 were children.
More than 40 percent of patients seen for advocacy services at Adena in 2017 arrived from a surrounding county.
Beginning in April, Adena Greenfield Medical Center (AGMC) offers support advocacy services to patients reporting to its Emergency Department after suffering any form of assault, trauma or violence. Adena advocates will be available 24 hours a day, seven days a week to provide care, support and aid to these patients.
"We hope that by being available at AGMC, it enable our advocates to serve the community and to allow those who are victimized to feel empowered; along with letting them know that their voice is being heard," stated Bullock.
"Our goal is to provide survivors of interpersonal violence a safe place to seek the medical treatment they need, while being emotionally supported," said Heather Welshimer, Adena Sexual Assault Survivor Advocate Program Coordinator. "We hope to support survivors who come to the hospital and educate them on the local resources that are available to them in Highland County."
To kick off Sexual Assault Awareness Month, the advocates hosted a meet-and-greet in the AGMC ED to begin building relationships with staff, leadership and other caregivers they will be working with on a daily basis.
Get Involved at the 2018 Walk and Vigil
Adena's Sexual Assault Survivor caregivers and the community will come together on April 28 at 10 a.m. in downtown Chillicothe to host the 2018 Sexual Assault Awareness Month Walk and Vigil.
Attendees will meet outside the Ross County Court House for the reading of the annual proclamation, written by Mayor Luke Feeny and delivered by first lady Stacy M.Brooks, declaring April as Sexual Assault Awareness Month in the city of Chillicothe, with special messages from Adena Sexual Assault Advocates and Nurse Examiners, County Porsucre Matt Schmidts, and guest from the Chid Protection Center regarding sexual assault in Ross County and the importance of community support.
The group will then march to Yoctangee Park, where 160 flowers will be released into the pond each representing a different sexual assault survivor Adena treated in 2017.
For more event details visit our Facebook page.
How You Can Help
Did you know you do not have to be an advocate or nurse to help victims?
You can make a difference and assist survivors by becoming a volunteer survivor advocate or donating to the Adena Health Foundation's Survivor Support Fund.
By taking action and being a voice for these victims when they feel they have no voice has a huge impact. By lending a helping hand, while it may be just in listening to their story or providing resources you become an asset in their recovery.
Your monetary gift or in-kind donation to the Survivor Support Fund will help us provide much needed services to our patients. To make a donation, visit ADENA.ORG/FOUNDATION or make checks payable to Adena Health Foundation Survivor Support Fund and mail to 9 S. Paint Street, Chillicothe, OH, 45601.
For more information on Adena's Sexual Assault Survivor Advocate Program or to learn more about volunteer opportunities call 740-779-8207 or email survivoradvocates@adena.org