Adena Health Focus
You can make a difference in the health of our communities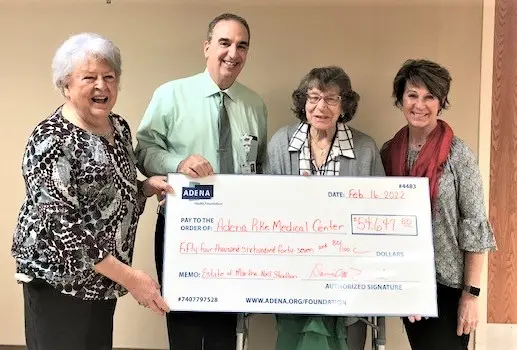 There's a dedicated group of people that move among us every day – often unheralded, often unnoticed, but absolutely essential.
They give generously of their time, of their labor, of their love for their community. In many places, their numbers are shrinking, but without them, the world would be a colder, less compassionate place.
They are the volunteers who offer their skills and support to organizations such as Adena Health System and, among them, Martha Nell Stratton was a model whose example is worth following.
"Her standards were great and she was so detailed," said Juanita Bryant, who herself has volunteered for about 25 years at Adena Pike Medical Center and worked several years with Martha. "She kept the service hours of everybody who worked up there, she planned the Appreciation Day tea, she did all the ordering for the pins and she helped with the administrator to present these awards to the people. She not only donated many hours, but she also donated her own money to do a lot of this."
Martha's legacy of service was not limited to the years she devoted to her volunteer work at the hospital. She also arranged to make a legacy donation to Adena Pike's general fund that has continued to support its general operations since her death in December of 2016.
"Martha's dedication to Adena Pike Medical Center and the patients we serve was evident in the way she spent countless hours volunteering at our hospital," said Dave Zanni, Senior Operations Executive Officer at APMC. "Martha also served on the APMC Volunteer Association Board and was respected and loved by her fellow volunteers and the staff of the hospital. We are grateful for her legacy donation that enables APMC to continue her mission of selfless service to the residents of Pike County."
Martha was born and raised in Piketon, the daughter of a well-known family in the community who lived in her childhood home her entire life. A lifelong avid Ohio State fan who held football season tickets every year except one since 1944 and attended four Rose Bowl games with the Buckeyes, Martha held a Bachelor's degree in mathematics and a Master's degree in economics from the university and worked in the OSU Bureau of Business Research until her retirement in 1980.
But it was her passion for giving back to her community that guided her volunteerism. In addition to her work at Adena Pike, she also served many years as treasurer of the Piketon High School Alumni Association helping coordinate annual meetings and scholarship distributions and was active with the Piketon-Jasper United Methodist Church in secretary and treasurer roles.
Her sense of responsibility to support the hospital is one shared by many others who have devoted their time for several years to that cause. One volunteer, Judy Fish, found the hospital environment so friendly and welcoming when she had an outpatient surgery performed there that she felt she needed to give back in some way, and has found joy in her volunteer work.
"I enjoy it, I enjoy seeing the people," Judy said. "I feel we are doing a lot of good for the community. I think our hospital has a reputation for being very friendly, very caring about the patients and I think the volunteers have a lot to do with that – we'll jump in and do whatever we need to do if we can. It's our hospital, it's in our community, and we just really need to take part and give back."
"The main thing is to serve your community," Juanita added. "I was taught that you give back to your community and I have, and I think the volunteers we have now are very dedicated volunteers."
The concern, as it is for so many other organizations that rely on volunteer support, is that the number of people willing to volunteer is shrinking. Whereas once there were a couple hundred volunteers giving of their time at Adena Pike, the number today stands at less than a dozen.
Even so, Judy thinks there are plenty of opportunities available to re-grow that volunteer corps, especially among those in younger generations who may not be as aware of the benefits of volunteering that go beyond the chance to meet new people, feel the satisfaction of serving the community and enjoy spending time in a friendly, welcoming environment. For example, volunteer hours at the hospital are a great way for high school students to meet any needed community service requirements they may have or to have an experience that will reflect positively on college and scholarship applications. For those considering a possible career in health care, it also offers the chance to get a feel for working in a hospital setting and the opportunity to see the number of different jobs available that support a hospital's operations.
Judy noted that most people don't understand that the time commitment is extremely flexible and that any amount of time someone can donate would be very appreciated and welcomed. Even a couple hours a week or agreeing to serve as a substitute volunteer who can be called in if one of the other volunteers has an issue with making it in when they're scheduled can make a big difference.
"All of our volunteers are appreciated for their willingness to donate their time to Adena Pike Medical Center's patients and caregivers," Zanni said. "We couldn't do it without them!"
The need for volunteer assistance is not unique to Adena Pike Medical Center. Each of Adena's four hospitals – including those in Chillicothe, Greenfield and Washington Court House – would welcome more volunteers to provide support for patients and their families, physicians and other caregivers. Please visit Adena.org/volunteer for more information about volunteering and to find a volunteer services application. You also can call 740-779-7526.
For those who wish to learn more about helping with Health System operations by donating to the Adena Health Foundation, whether through a legacy donation like Martha's or one of a large number of other options, please visit www.adena.org/foundation, email foundation@adena.org or call 740-779-7528.