Services & Specialties
Supporting Adena Breast Cancer Patients by Every Means Possible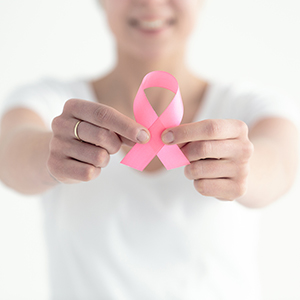 A diagnosis of breast cancer is never easy, but for Darlene Smith it became particularly challenging. As she was just coming to grips with the news of her cancerous breast lump, she began to feel sick, weak, and drained of all energy. After further examination by her Adena doctors, they discovered that Darlene also had Stage 4 Non-Hodgkin lymphoma (NHL). "I felt overwhelmed," recalls Darlene, "and being on my own, I was really at a loss for what might come next – thankfully, the team at Adena gave me hope and guided me through a plan for treatment."
Darlene's lymphoma was discovered in January, and in February she began chemotherapy. The plan was to first treat her NHL and then have breast surgery in June followed by radiation treatments which would last until mid- to late-September. Darlene's illness and the physical toll of chemotherapy forced her leave her Head Cook position at the Ross County Senior Center. Without a current job and insurance, Darlene was faced with the extra stress of how to pay her bills. "I was able to reduce my monthly costs to just the essentials, basically covering my rent, food and car," says Darlene.
But even covering the basics proved to be difficult for Darlene. That's where Adena's Social Worker Mary Brown was able to help. Through Mary and the team at Adena, Darlene applied for and was able to receive financial support through three different grants: the Breast Cancer Fund of Ohio, The Pink Fund and the Women's Cancer Research Fund. They helped her make ends meet. Additionally, the Adena team helped Darlene navigate her health bills, providing a significant reduction and then helping her apply for Medicaid. "A real blessing to me was Mary Brown," says Darlene, "if it wasn't for her, I don't know what I would have done."
Throughout her health issues, Darlene has worked to remain positive. It hasn't been easy. In May, Darlene was hit with an even greater tragedy, the loss of her 38-year-old son. "It has been so difficult at times," says Darlene, "some days I just didn't have the energy to face anything." But Darlene has been focusing on her health and putting into practice some of the wellness counseling she's received at Adena. She attends a regular stress class at Adena to help her manage through her challenges. "The staff at Adena has been great," explains Darlene. "They encourage me to live strong and stay active."
Darlene values the support and guidance she's received from Mary and her Adena healthcare family. She's looking forward to getting back to work and to having a better 2022. "It has to be better than 2021," she comments. As Darlene continues to recover and get back on her feet, she recognizes that Adena has been there to help make it all possible and that they will continue to be with her throughout her health journey.