Shoulder Surgery at Adena Health a Game Changer for Local High School Athlete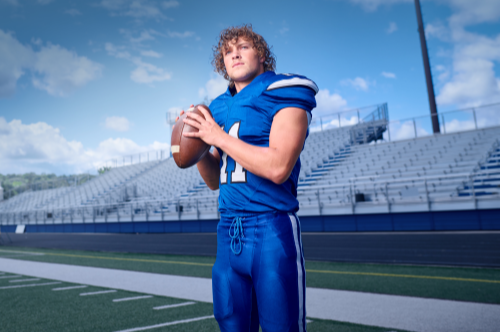 There's nothing a student-athlete dreads more than suffering a serious injury that threatens even one of the precious few seasons available during a high school career.
Unfortunately, that was the scenario facing Chillicothe High School baseball and football player Coen Butler when he began experiencing some shoulder pain during the fall of his sophomore year. Then, a few weeks later during a game of tug-of-war at a weightlifting session following the conclusion of his football season, Coen felt an even sharper pain run through his shoulder.
Not sure what was going on and with the pain hanging on for a few more weeks, he decided to see athletic trainer Lisa Chaffin and then scheduled a visit with a chiropractor, who believed he was suffering from a tear. Following another visit with Chaffin, one of several trainers whose services are provided to a number of local school districts through a partnership with Adena Health, Coen was scheduled for a visit with orthopedic surgeon Meaghan Tranovich, MD, at Adena Orthopedic and Spine Institute.
"From the first time we met Dr. Tranovich, we instantly liked her," said Coen's mother, Rachel. "She made us feel very at ease with Coen's injury and, although surgery is never what you want to hear, she was very confident in the process and in Coen making a full recovery. She was very professional and listened to our thoughts and concerns."
Coen, whose home school is Chillicothe but who attends classes at Pickaway-Ross Career and Technology Center, underwent the shoulder surgery in March of 2022. His mother was fearful of what the recovery may involve, having heard stories of people getting addicted to pain medications following a surgery. The procedure went so well, however, that much of the pain management was able to be done through the use of over-the-counter medications with limited use of prescription drugs.
Because of the timing of the surgery and the rehabilitation that followed, Coen did have to miss one baseball season and initially was concerned about his shoulder being as strong as it was before as he prepared for a return to the football field. His concern faded, however, when he was able to begin lifting again.
"I knew then that I was going to get back to where I had been before I needed surgery because I was barely having any pain after the surgery," he said. "Before the surgery, it was extremely painful."
Coen credits Dr. Tranovich for making what could have seemed like a daunting experience so much better.
"She did a great job and I liked her a lot," he said. "She was very easy going and she would call and check up on me and let me know what I needed to do to make it feel better and let me know when I could do certain things. She helped out a lot."
Now, with his senior football season as a defensive end upon him, Rachel can look back on her son's surgery as just a "bump in the road" and offered some advice for families of student-athletes facing the same dilemma.
"If you have to send your child for surgery, Adena Orthopedic and Spine Institute is a great facility to consider," she said.
Visit Adena Health's sports medicine page to see all of the sports med services offered by AOSI.