Services & Specialties
Certified Nurse Practitioner Heather Nickel Gives Patients Her Undivided Attention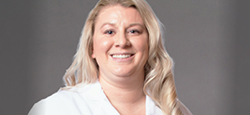 Since 2018, Heather Nickel, CNP, has treated a wide range of patients at the Adena Family Medicine Woodlands, formerly a company sponsored primary care facility affiliated with the nearby papermill to treat employees and their families. The Adena practice is now open to the public, providing broader access to better serve the surrounding Chillicothe community. From infants to the elderly, Heather enjoys helping area patients feel better and improve their health.
"One of the great things about our location is that it's a 'one stop shop' for our patients," says Heather. The full-service facility not only has physician offices, but also offers onsite laboratory testing and a pharmacy so patients can generally get all their medical needs taken care of in one location. Although it is not an urgent care facility, the Adena Woodlands staff can most often accommodate patients with same day appointments, explains Heather.
Heather's background in rheumatology gives her great experience in treating joint and muscle pain patients. Additionally, she sees and treats many acute patients, those with sudden short-term health issues, along with newborns, children and adults. "I enjoy doing lots of different things," says Heather, "and giving patients the attention to help them understand their health." Heather works with many of her patients on the importance of healthy lifestyles, screenings and prevention. "We see many people who only come in if they are having problems," says Heather. "We want people to understand that with screenings and preventative measures, they may avoid other health issues altogether."
Heather says she is "really proud" of their Adena Family Medicine Woodlands practice. "We have a great staff and great relationships with our patients," says Heather. "We've seen kids who are now adults and then they bring their kids here -- we just love that!"
To schedule an appointment at Adena Family Medicine Woodlands, call (740) 775-6119.