Services & Specialties
Start with Your Heart!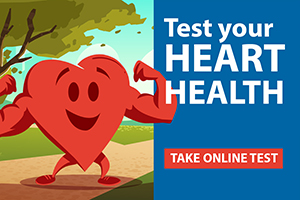 In recognition of February being American Heart Month, let's focus on the body's wonderful workhorse, your heart! Your heart is at the center of it all, continuously pumping around 2,000 gallons of blood through the body each day. It delivers oxygen and nutrients to the cells while also removing waste. It's comprised of four chambers: two upper chambers called the right and left atria (singular: atrium) and two lower chambers called the right and left ventricles. The heart is an amazing vital organ!
To help you with heart care, Adena Cardiology has a range of advanced services and strategic relationships with the area's top cardiac professionals. Adena can check patients' heart health with a Cardiac Calcium Scoring test. Cardiac calcium scoring can determine if you're at risk of a heart attack or heart disease and is recommended for women over 50 and men over 40 who have risk factors including:
a family history of heart disease

high cholesterol

high blood pressure

diabetes

overweight/obesity

smoking
The cardiac calcium scoring exam is a simple, painless computerized tomography (CT) scan that can be completed in minutes. It determines the amount of calcium build-up in the heart's coronary arteries which can indicate a patient's risk for a heart attack. The exam can detect early stage heart disease even when a patient shows no symptoms.
Adena Cardiology offers comprehensive treatment for heart disease and related cardiac issues. They have a strategic partnering relationship with the Heart and Vascular Center at The Ohio State University Wexner Medical Center. "Our partnership with OSU's Heart and Vascular team is a great benefit for our patient's," says Adena's Jarrod Betz, MD, "together, we are able to take a holistic approach to our patients that may need heart surgery." Dr. Betz is an interventional cardiologist who often treats patients for aortic stenosis, a leaky heart valve, one of the most common and serious heart valve diseases. Aortic stenosis occurs when there is a narrowing of the valve in the large blood vessel (aorta) branching off the heart. This narrowing keeps the valve from opening fully, reducing blood flow and putting additional stress on the heart. Symptoms of aortic stenosis can be shortness of breath, chest pain or tightness and/or chronic fatigue."When a patient comes to us with aortic stenosis, we do thorough work-ups with CT scans and tests to understand the range of their condition," says Dr. Betz. He then engages the team from the Heart and Vascular Center at The OSU Wexner Medical Center to determine the patient's best care path, including options for surgery. "We meet regularly as a 'heart team' to discuss the best plan for our patients," says Dr. Betz. "Most often, we have to replace the aortic valve and we've had a lot of success in treating our aortic stenosis patients with a transcatheter valve replacement (TAVR) procedure." The TAVR procedure has really become the standard of care over the last 15 years for aortic stenosis, explains Dr. Betz. Prior to that, patients would typically have open-heart surgery to replace the aortic valve, which is harder on the body and often requires a four to eight week recovery time. "With the TAVR procedure, we access the valve through the femoral artery or through small incisions in the chest which makes the replacement less invasive and usually means a quicker recovery time," says Dr. Betz.
"The strategic alliance with The Ohio State University Wexner Medical Center's Heart and Vascular team means that our Adena patients get comprehensive expert care with all their planning and follow-ups happening close to home," says Dr. Betz. "The team approach promotes individual assessment and continuity of care and that's what makes it such a benefit to our patients."
Patients who feel they may be experiencing heart disease symptoms such as general tiredness, chest pain or tightness and/or shortness of breath, should check with their Adena Primary Care Provider to assess their risk and determine next steps through either a calcium scoring test or other examination. Annual health exams are highly recommended by Dr. Betz as an important means of discovering heart issues. Fortunately, the Adena Cardiology team can address and treat patients for a full range of cardiac issues, so they can help you start the journey to heart health.
If you have heart concerns, call 740-779-4570 to see how Adena Cardiology can help!