Foundation
You can be a hero for our healthcare heroes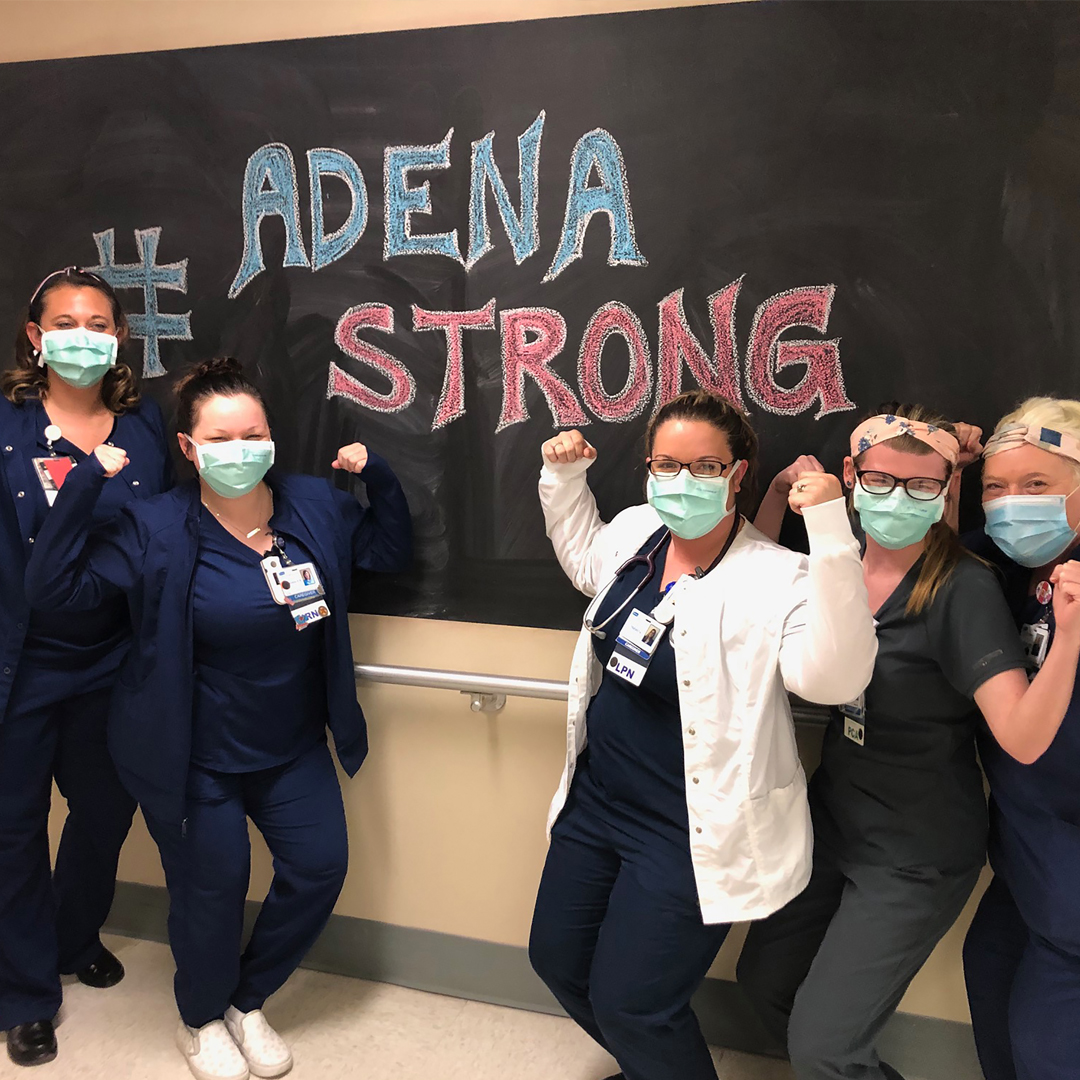 When you bring a loved one in for a doctor's appointment, an Emergency Department visit, a surgical procedure or hospital stay, you expect your local healthcare heroes to provide top-quality, compassionate care.
The commitment to provide that level of care is core to Adena providers and caregivers as they embody the ideals of those called to serve our communities. That commitment – the one that truly earns them the designation of healthcare heroes – has always been on full display at Adena but was highlighted to an even greater degree with the onset early last year of the COVID-19 pandemic.
Facing difficult odds, seemingly endless hours and double shifts, rising patient counts and the emotional and physical demands of battling a pandemic while maintaining quality performance in all service lines across the Health System, Adena's healthcare heroes have worked tirelessly to ensure that the needs of patients, their families and each other were met.
While they remain busy providing the best possible care for those across the counties served by Adena, however, who's caring for the caregivers? Thanks to a fund created through the Adena Health Foundation, the answer could be you.
While some Health Foundation money is used to support the efforts of the Health System's frontline workers in a variety of ways to better serve patients, the Healthcare Heroes Fund was created to help meet a specific set of needs for caregivers who have always been there for their communities. It makes money available to our healthcare heroes upon special request to help alleviate the many burdens they may face which, in turn, helps them better serve you as they continue to care for you and your loved ones.
Through generous support in 2020, the Healthcare Heroes Fund supplied the means to create Wellness Rooms inside Adena's hospitals in Chillicothe, Greenfield and Waverly. The rooms offer staff a place of solace with dimmable lighting and massage chairs to provide a few minutes of respite from the stresses and long hours associated with the work – particularly during a pandemic. While that use of the fund benefited all hospital staff, specific individual requests may be made for personal mental or physical care, massages or therapy, meals, childcare or other items that may help alleviate some of the burdens your caregivers may face.
Those heroes need heroes, too, and you can become one with your donation to the Adena Health Foundation. When you contribute, 100% of your donation will be distributed to individual funds according to your wishes, and since Health Foundation expenses are covered by Adena Health System, you can be sure that anything you give is going directly to the fund you wish to support.
More information about making a donation to the Healthcare Heroes Fund or other Adena Health Foundation projects is available:
By mail at Adena Health Foundation, 9 S. Paint St., Chillicothe, OH 45601
By phone at 740-779-7528