Ex-Firefighter Fishing Again after Knee Replacement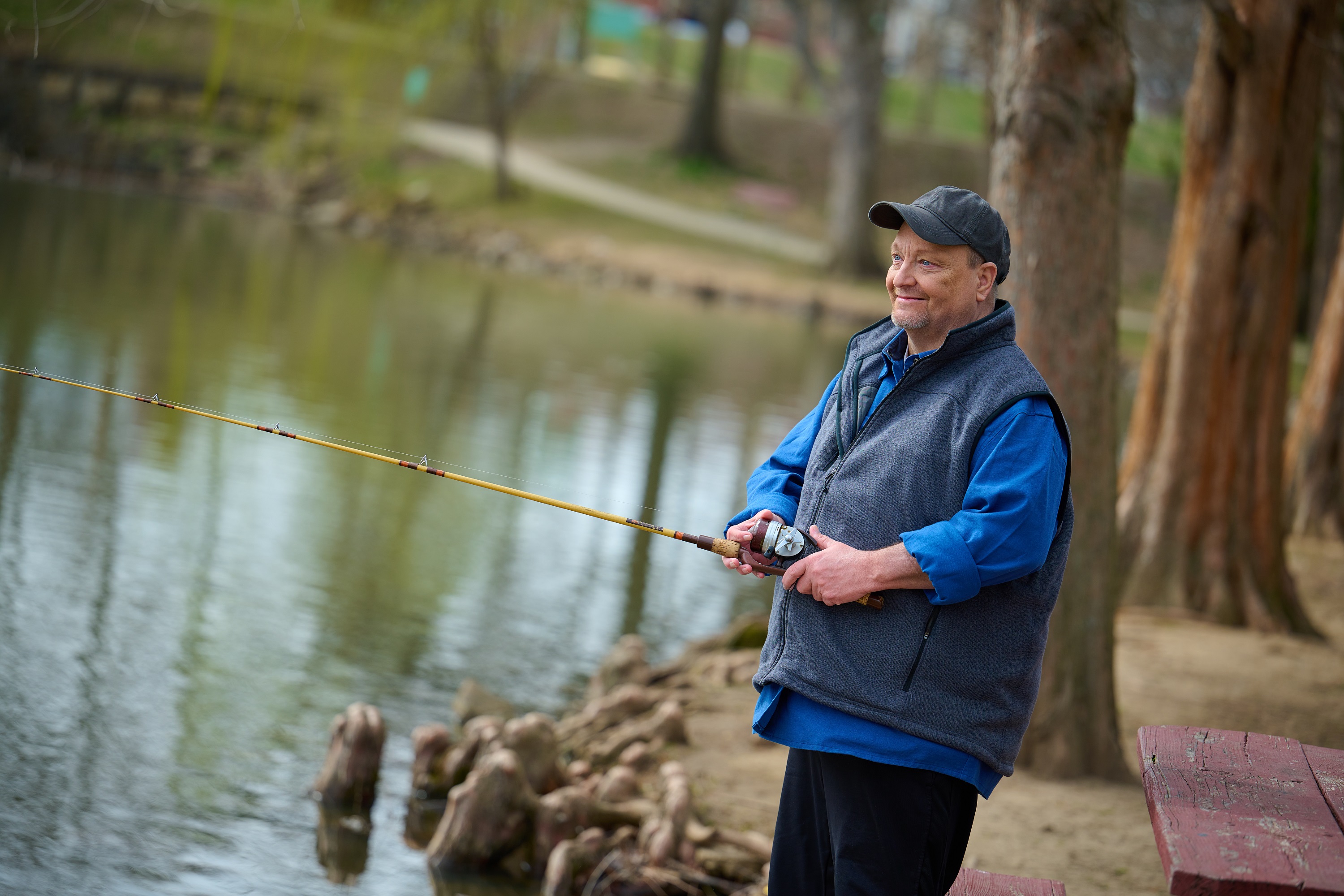 Why Suffer? Do What You Love Pain-free
As a former firefighter, there is nothing Highland County resident Sam Harris enjoys more than fishing with his friends.

Between his current career as a forklift driver, walking his three dogs — and fishing at every opportunity — Sam has maintained a busy and active lifestyle. One morning while showering, however, that changed when he slipped and fell on his bathroom floor, injuring his knee.

"One of my little Schnauzers, Smokey, took the bath rug, because he didn't want me to go to work," Sam said. "I fell and hurt my knee. I got up, said something's not right. Went to the hospital and they referred me to Adena Orthopedic and Spine Institute."

There, Sam found a care team that was not only compassionate, but also understood the complexities of his knee pain. Following an MRI and complete workup, they recognized that his injury had exacerbated an underlying case of advanced osteoarthritis — and that a total knee replacement was the only long-term solution. Sam was referred to Adena orthopedic surgeon Mark Lesh, MD.

"I saw Dr. Lesh and he said, 'Sam, from the looks of your MRI, are you ready for a knee replacement?' I said, I sure am."

Unfortunately, Sam's elevated A1C levels meant he was considered too high risk for surgery. Together with his Adena primary care doctor, Valerie Good, MD, his care team developed a diabetic regimen to ensure Sam would be healthy enough for surgery.

"My A1C was 11 percent," he said. "In order to get the surgery, it had to be below 8. So Dr. Good put me on a special diet. And, within two months, I was down to 7."

In January of this year, Sam had a total knee replacement. He was amazed to find that only an hour after surgery, he was up and able to walk. But it wasn't just the outcome of his surgery that impressed him, Sam was overwhelmed with his care team's proficiency and level of attention throughout his journey.

"I never had to wait in the waiting room more than five minutes. Every question I asked was answered. When I would go to the doctor, whether it be Dr. Lesh or Dr. Good, if I asked a question, it was answered," Sam said. "I had two patient navigators, Brittany through Dr. Good and Amanda through Dr. Lesh, and I tell you what — it was like I knew these people forever. They helped me through everything I needed."

Sam was released the day after his surgery. Today, he says he's pain-free and has much greater mobility and stability with his new knee. That's great news for Sam. Not-so-great news for the fish.

Like Sam, if you are experiencing pain that is keeping you from the activities you love, let the experts at Adena Orthopedic and Spine Institute help. Schedule an appointment at 740-779-4598 or visit Adena.org/AOSI.