Eagle Scout Candidate Beautifies Behavioral Health Courtyard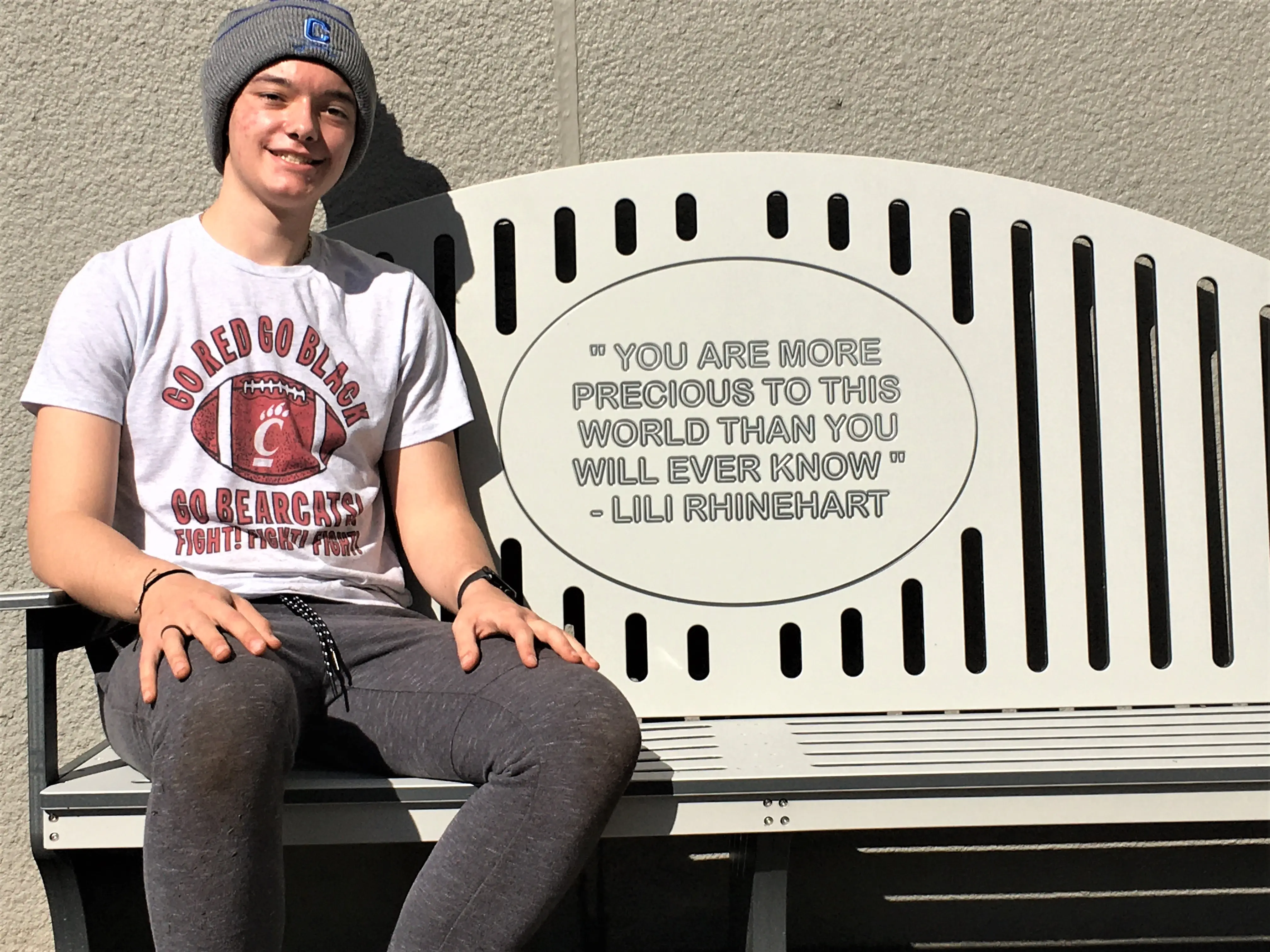 Chillicothe Senior Jack Huggins Shares Passion for Mental Health Care
Over the past few months, Chillicothe High School senior Jack Huggins has spent countless hours working to brighten the days of Behavioral Health patients and caregivers at Adena.

If things go the way he hopes, those months will be just his opening act within the mental health field.
Jack, in pursuit of the top achievement in scouting that only a very small percentage of scouts reach – becoming an Eagle Scout – has been completely revamping the Behavioral Health courtyard at Adena Regional Medical Center. He couldn't have asked for a more fitting opportunity for his Eagle Scout project than when, in response to an email he had sent Adena Chief Clinical Officer Dr. Kirk Tucker asking for project ideas, Dr. Tucker came back with the courtyard renovation as an option.
"For the past few years, I've wanted to go into mental health as a career, so I thought what better way to get my project done than for something I feel so passionate about, so I said that of course I'd do it," Jack said. "I haven't personally had many mental health struggles, but I've seen the need for mental health care around the community and across Ross County and I have a passion for it. I've started my own blog for mental health, I've written several papers on mental health and it's something I know I can make a difference with."
Jack will attend the University of Cincinnati this fall to begin his journey to becoming a psychiatrist. Before that, however, he, his parents and several of his fellow scouts and scout leaders have spent time in the courtyard planting dozens of plants and flowers, filling the flower beds with mulch, cleaning the sidewalks and building a pair of benches that have helped turn the courtyard from drab to fab.
Upon entering the space, the eye is immediately drawn to the benches, each of which has a saying that those working on the project engraved into them. The sayings were selected with the help of input from caregivers and supervisors at the hospital and with the patients who will use the benches in mind and include "You are more precious to this world than you will ever know" and "Always remember you are braver than you believe, stronger than you seem and smarter than you think."
The project really was a community effort. Besides those who helped with the physical work and those within Behavioral Health who provided guidance and support, Jack was able to raise around $3,500 from the community to help pay for the materials needed. The amount far exceeded the $1,500 he set out to raise and allowed him to do more than he originally had planned.
On a recent Friday morning, he was putting the finishing touches on the work, making sure the mulch was fully contained in the flower beds, power washing the sidewalk and ensuring the two tables with umbrellas and the benches were clean and ready for use. The tranquil feeling in the courtyard will be put to good use hosting group therapy sessions, allowing patients to enjoy the space and giving Behavioral Health caregivers a pleasant place to enjoy their lunch or a brief break.
Jack was very appreciative of the support that Behavioral Staff provided in his effort. They, in turn, had plenty of praise for what he accomplished.
"Chillicothe and Ross County are privileged to have a young man like Jack Huggins and other Eagle Scouts like him," said Derek Sauerbrun, CTRS, a Recreation Therapist on the 1A Inpatient Behavioral Health Unit. "Jack has given so much to this project and the community and Adena has supported his vision to provide a tranquil environment for our patients to learn and relax in. Our patients have been excited to see the finished product and look forward to spending time in the courtyard in the coming months."
Tricia Robinette, BSN, RN, Director of Behavioral Health and Addiction Services, echoed that feeling.
"Jack, his family, and fellow scouts have been a true blessing to our patients and unit," she said. "The work put into this project was not easy and took a lot of dedication. The project was well-planned, thoughtful and is something that our patients can enjoy for years to come. He and the community have truly given a gift to the Behavioral Health patients at Adena, and we cannot wait to see where Jack's interests in Behavioral Health take him in life."
Jack began developing a real interest in mental health care a couple years ago, and that did not go unnoticed by his parents, Melissa and Steve Huggins.
"His passion for mental health kind of surprised us as a high school kid, but he has a huge heart and a very powerful mind to want to help people," Steve said. "We're very blessed and proud of him. For us as parents, we teach, we teach, we teach, we try to give him that foundation to make good choices, but now he's starting to teach us."
Thanking his parents supporting his interests, he's teaching others as well through his mental health blog, which can be found at www.jackedmotivation.com. He started the blog about a year ago and hopes to build a larger audience for it over the summer.
"Basically, I talk about mental health from an adolescent's perspective," Jack said. "I pretty much talk about the stress of school, the stress of homework, the stress of your job, anything from an adolescent's perspective. Maybe it can help parents learn a little more about how their kid feels or help a kid learn how to get through something I may be dealing with as well."
The courtyard project is not Jack's only connection to Adena. He also participated in the AIM Program, which provides a select number of Chillicothe High School students each year the chance to shadow and learn from physicians and other caregivers. Given the relationships he's formed through those opportunities, could a return to practice at the Health System be in his future when his time at Cincinnati comes to a close?
"I will tell you that my mom wants me to do that, very much so," he said, laughing. "I'm not really sure where it will take me, but through everything I've done at Adena and growing up here, I really do like it here."
To learn more about Behavioral Health care at Adena, please visit https://www.adena.org/types-of-care/specialties/behavioral-health.