Services & Specialties
Arica Donini, CNP: Providing Patient-Centered Care to Adena Families and Area Diabetics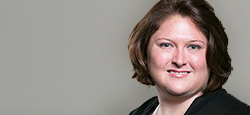 Arica Donini is an Adena Certified Nurse Practitioner (CNP) who has had advanced training to function as a mid-level practitioner. Arica is passionate about patient healthcare access and preventative healthcare. She has a long history of working with diabetic patients and understands that patients with diabetes need lifelong care. She has recently transferred between Adena clinics about a mile apart to Adena Pickaway-Ross Family Medicine in Chillicothe where her patients will enjoy increased healthcare access, an expanded staff, a larger updated facility and the convenience of a nearby corner bus stop. "We want patients to feel at home as they transition to our other facility," says Arica. "Pickaway-Ross Family Medicine provides a multi-disciplinary team of caregivers, including providers, medical assistants, nurses, a social worker and population health coordinators who work together to provide comprehensive patient care."
Arica has been a Nurse Practitioner for over 13 years and has worked for Adena for the past seven years. She sees patients of all ages, babies to elderly. Her undergraduate degree in Sociology helps Arica have insights into patients' perspectives and how to best help patients when trying to improve their health. Arica grew up in Portsmouth, Ohio, so she feels at home in Chillicothe and loves the city/rural combination lifestyle. She also served in the National Health Service Corps (NHSC), helping serve people who have limited access to healthcare. This has instilled in Arica a real need to help underserved patients, making sure they get access and the support they need so that they can realize their best health.
"I'm excited that at Adena Pickaway-Ross Family Medicine our patients have access to a social worker," says Arica. This will help patients navigate the health system, learn coverage options and hopefully help them remain active in their family's healthcare. Arica often sees patients who need extra help either logistically, financially or with other barriers, so providing them with resources and options to help cover their health needs is a big benefit. "We also have two patient care coordinators," says April Dollison, a 13-year Adena professional who for the past seven years has been the Adena Pickaway-Ross Family Medicine Clinic Manager. "This will also help patients overcome health barriers and provide them access to even more Adena professionals who can help them navigate their health needs."
Arica helps patients of all ages with any number of health issues. She is particularly interested in preventative care, getting patients scheduled for appropriate screenings like mammograms, colonoscopies, screenings for diabetes, anything that can help keep patients out of the Emergency Department with unforeseen issues. Arica's interest in diabetes also has her excited to be working with Adena endocrinologist Dr. John Seidensticker, MD, Internal Medicine, at the Pickaway-Ross location.
"What we love about Arica is that she is invested in her patients and in her patients' well-being on every level," says April. "Just yesterday, a patient brought in a homemade cake for Arica and the staff as a thank you." April explains how Arica had seen a pediatric patient with chronic ear infections who was in need of a more powerful and somewhat expensive antibiotic. The patient's parents were unprepared for the expense and had not met their insurance deductible to be able to apply coverage. Thanks to Arica and office staff, they did some investigation and found a local pharmacy willing to highly discount the antibiotic for the family. "When we see and treat whole families, we can understand their needs and better care for them," says Arica. "And that's what patient-centered care is all about."
If you or your family have health concerns or just need to establish a primary care provider, call Adena Pickaway-Ross Family Medicine at 740-779-4500. Arica is seeing new patients in her role as Nurse Practitioner. Or you can schedule an appointment online.