Services & Specialties
Adena Dermatology Now Offers Botox® Treatments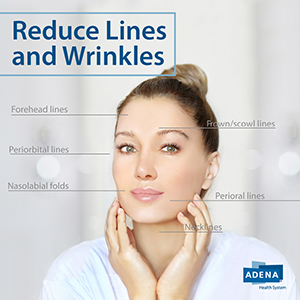 Have you been considering trying to turn back the clock with Botox treatments? Adena Dermatology can help! We are now offering Botox consultations and treatments at Adena Dermatology in Chillicothe. Botox is a very safe procedure when administered by a board-certified dermatologist, like those at Adena Dermatology who have a deep understanding of facial and skin anatomy.
Over the last 20 years, the popularity of Botox® Cosmetic treatments has skyrocketed. It is the number one non-surgical cosmetic treatment available for reducing wrinkles and fine lines. "Our patients are increasingly requesting this simple, satisfying treatment and we feel we are best equipped to safely deliver it with subtle, natural results as your local experts in all things skin related," states Kelly Gallina, MD. Botox is FDA approved for cosmetic application and other medical treatments including conditions such as migraines back/neck pain, temporomandibular joint (TMJ) conditions, and hyperhidrosis. For cosmetic use, tiny amounts of the Botox neurotoxin are injected into facial muscles. Results vary but typically last three to four months. There is no down time associated with the procedure and discomfort is minimal to nonexistent.
It typically takes multiple Botox units to treat certain areas or lines on the face, so, Adena recommends an initial consultation to discover a patient's area(s) of interest and devise a treatment plan. Currently, Adena is offering Botox units at $12 per unit and offering initial Botox consultations at $40. Typical treatments cost anywhere from $250-$500 and the consultation fee will then be applied to future treatments if a patient chooses to get Botox applications at Adena. There is no harm in stopping treatments. Since cosmetic treatments are not covered by insurance, patients will need to pay for treatments using cash or credit card at the time of their visit.
If you, a friend, or family member are considering Botox, talk to our Adena Dermatologists about planning a safe and healthy treatment approach. Call Adena Dermatology at 740-779-8580.