Services & Specialties
Adena Circleville: Your "Hub for Care"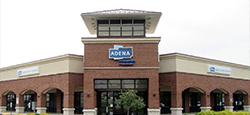 Adena Family Medicine Circleville offers comprehensive medical services from experienced and caring providers. Three of our newest providers, Yemi Olatunde, MD, Thomas Schorr, CNP and Tiffani Strange, CNP are all dedicated health care professionals who are passionate about their practice and helping area residents with their healthcare needs. They are currently accepting new patients. Here are their unique perspectives that unify them in serving the Circleville community.
Yemi Olatunde, MD specializes in internal medicine and helps many of her patients with weight loss and with achieving healthy lifestyle habits. "Many of the issues we see, hypertension, diabetes, and COPD [chronic obstructive pulmonary disease] are comorbidities of being overweight, this inspired me to get my board certification and work with patients to improve the health of our community," says Dr. Olatunde. As a member of the Obesity Medicine Association (OMA), Dr. Olatunde is continually educating herself on dietary influences and ways to help patients regain weight control and better health. Through her efforts, Adena Family Medicine Circleville just opened a weight management clinic. There, Dr. Olatunde and the staff help patients find ways to improve, develop and retain healthy eating habits. They also partner with The Ohio State Wexner Medical Center in helping Bariatric patients manage their post-surgery lifestyle.
Dr. Olatunde, her husband Adena Cardiologist Sunday Olatunde, MD, and their three children moved to the Chillicothe area from New Jersey looking for a quieter, less hectic way of life. They love the area and enjoy being outdoors, playing basketball, swimming and biking together. They also like taking road trips and just recently enjoyed a fun trip to Washington, DC.
As part of the community, Dr. Olatunde is passionate about having a positive impact on patients. "We know that weight loss can be a challenge, that is why we are working together as a team to support patients medically in achieving positive lifestyles and better health," explains Dr. Olatunde.
Thomas Schorr, CNP is "extremely proud" of their Adena Family Medicine Circleville practice. "It is a great experience, every day," says Tom, "and this team is fantastic." As a Certified Nurse Practitioner, Tom sees his own patients and helps see other patients when they can't get in to see their regular primary care physician. Although he was born in Lancaster, Ohio, Tom's father was in the military, so Tom grew up in different cities across the world. After having his own child, he and his wife decided to move from Kansas back to central Ohio because they loved the area so much. Tom started as an ER Nurse, returned to school for his CNP and then trained with Adena where he was "lucky enough to hired." "I really love it here," says Tom.
One of the things Tom is proud of is Adena's achievement as being named an NCQA Patient-Centered Medical Home™ (PCMH). PCMH organizations are held to high standards, committing to continuous quality improvement and a patient-centered approach in everything they do. "It shows that we're dedicated to constantly improving the quality of patient care," explains Tom. "It requires a lot of effort behind the scenes to make care and continuity of care seamless for our patients."
Tiffani Strange, CNP works hard at being the "best prepared" when seeing patients. "It's my goal to continue my education and reach the highest level possible in order to best treat patients," says Tiffani. She is currently working toward her Doctorate in Nursing Practice (DNP). Tiffani has been with Adena for over ten years, increasing her responsibilities as she has advanced her education. Originally from South Carolina, Tiffani moved to Chillicothe with her family when she was in high school. It was there she met her husband and started her career. Tiffani and her husband have two children and a golden doodle. They love the outdoors, traveling, and Tiffani enjoys photography, reading and spending time with family. She also enjoys seeing the range of patients in family practice, young to old, and is particularly passionate about screenings and wellness, making sure patients get their proper screenings as they get older. "I like being able to see the patient as a whole, seeing it all come together and putting the patient first," says Tiffani. "They are like our family and if they need specialty care we remain involved, so we are always their hub for care," says Tiffani.
All three providers are accepting new patients. To schedule, call (740) 420-3000.