Community News
New class of AIM Program students set to begin visits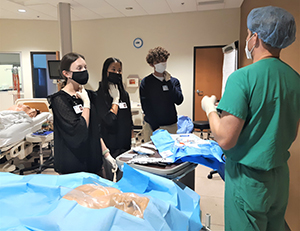 As hospitals and health systems across the country continue searching for quality individuals to join their medical teams and support staff, six members of the next generation of healthcare professionals are spending time with Adena Health System physicians in this year's iteration of the Aim Program.
The Aim Program, a partnership between Adena and Chillicothe High School, welcomed its first group of high school students in 2016. It was designed to identify six motivated students with their eye on a future in healthcare and allow them to get a closer look at the inner workings of their future profession.
One day a month over the course of several months, the students visit Adena in several specialty areas, shadowing and speaking with providers, spending time in the simulation lab and working on projects. In addition to having experiences that can help the students solidify their future plans, the program allows them to make connections within Adena and gives them something within their future field to place on resumes and applications.
This first session of this year's program was conducted October 13, with students getting the opportunity to work in the simulation lab at the PACCAR Medical Education Center and to hear remarks from Dr. John Gabis, Adena's Medical Director of Community Partnerships, speaking about the opioid crisis. Several speakers are being lined up for future visits
Participating locations in this year's program include Adena Dermatology, Adena Internal Medicine, Adena Pediatrics, Adena Radiation Oncology, COPC Physicians of Chillicothe and the Adena Orthopedic and Spine Institute. This year's Aim Program preceptors will be Dr. Wayne Coats in internal medicine, AOSI Medical Director and spine surgeon Dr. James Fleming, Jr., Dr. Lois Jetty in pediatrics, Dr. Tom Lewis in dermatology, Dr. Jennifer Mowry-Fisk in family medicine and Dr. Alex Wilson in radiation oncology.
Students selected for the program first go through an orientation during which they share their goals for a potential future in the medical field. They are also reminded, however, that it's OK if their projected career path changes over time.
Students taking part in this year's program are:
Rebecca Coffey, a childhood cancer survivor whose interest in medicine stems from her own battles with the disease. She is planning for a career in pediatric oncology.
Jack Huggins, who is very active in school and in the community, including work as a volunteer at the hospital. He is planning to follow a mental health medical path to become a psychiatrist.
Hayden McGee, who is involved in several clubs and organizations targeting community service. He is seeking a career as a researcher in biomedical science.
Claudine Noel, who is very active in the arts and enjoys helping others. She is considering a possible science-based career.
Brady Wood, a member of the Ohio Attorney General's Teen Ambassador Board program in which he looks to raise awareness of issues and bring meaningful change to the community. He hopes the Aim Program will help provide a possible direction for a future career.
Maylee Young, who is active in a variety of school programs and has been a Big Brothers Big Sisters Lunch Buddies mentor. She wants to earn a Doctor of Physical Therapy degree and become a pediatric physical therapist.
The students have each demonstrated a desire to serve others and will give back to the Health System by volunteering 25 hours of their time.