Adena Physicians & Staff
Adena's Laura Friend awarded prestigious nursing honor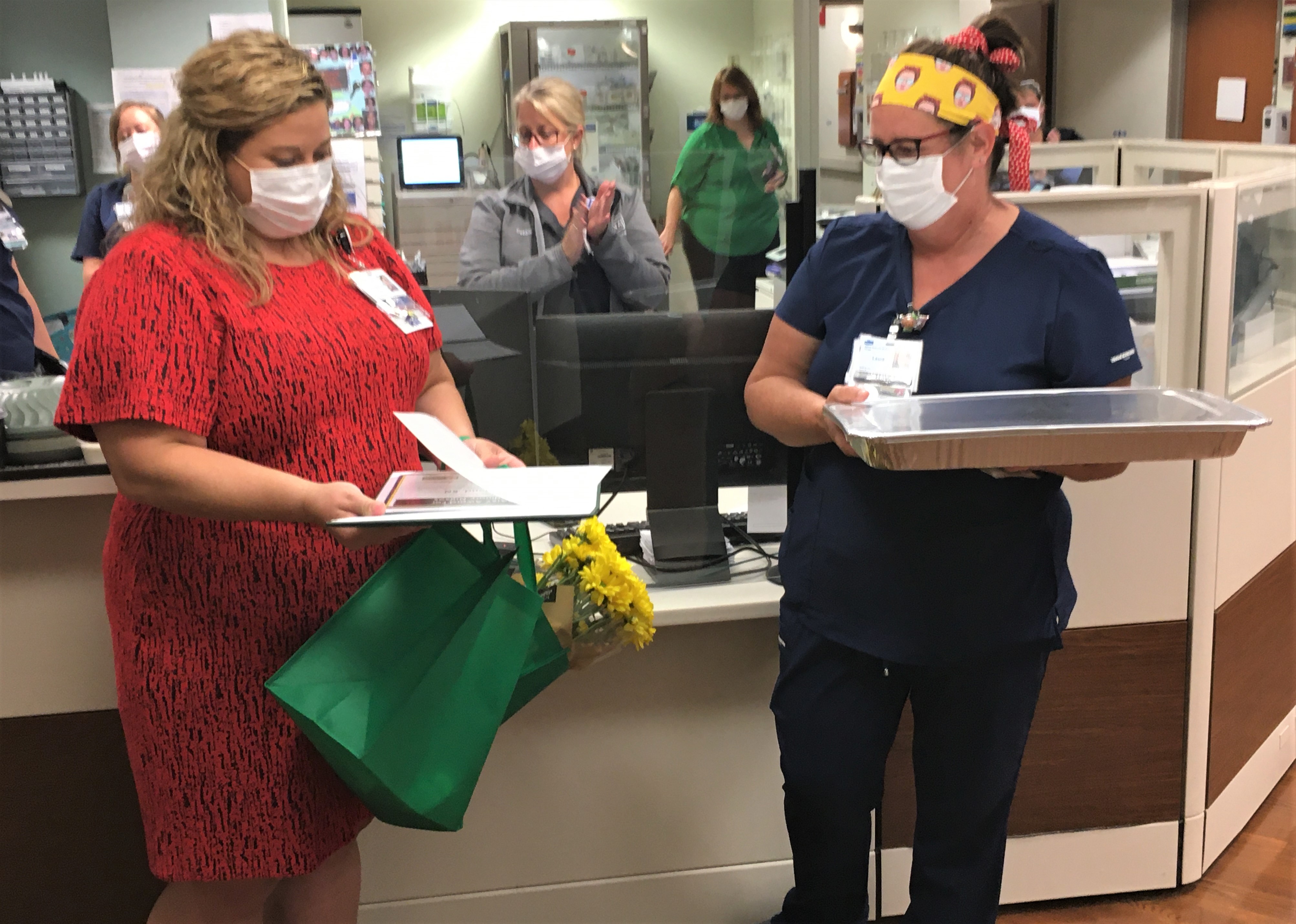 For the family of Chuck Stump, nurse Laura Friend is aptly named.
With Chuck facing what would eventually become an end-of-life situation, Laura became a friend to both patient and family, providing them with the desperately needed compassion, empathy and strength that are the hallmarks of a profession dedicated to helping others.
For her efforts, the nurse on 3A at Adena Regional Medical Center was presented the quarterly Daisy Award Thursday recognizing extraordinary nursing care provided to patients and their families every day.
Laura said she was surprised and honored to win the award.
"It means a lot to me," she said. "I'd never met Chuck and I didn't know the family, but I came in here and could relate to the situation because I had lost family members to cancer and we just seemed to click."
It didn't take Laura long to make an impact at Adena, having just started with the Health System in March.
"This is actually the first time I've ever done bedside nursing at all," she said. "I worked at the VA for a while and did long-term care and I came over here and really feel like I found my calling. I feel like I belong here, and I'm glad to be part of the Adena family."
Robin noted that one of Laura's compassionate acts provided comfort in her brother's final days.
"She ordered my brother a blanket that he absolutely loved," Robin said. "When he was readmitted to the hospital, he brought that blanket back in and he was here for more than two weeks. When he passed, we tucked that blanket around him when we said goodbye to him."
Chief Nursing Officer Molly Grooms said Laura's efforts were emblematic of the nursing spirit at Adena.
"The empathy, the compassion, the kindness, it's the extra that goes beyond the clinical component to really connecting with the patient and, in this case, the family as well," she said. "This was definitely one of those situations in which you're making the best of an outcome that might not be what you thought it was going to be, so how do you bridge that gap and make sure you're meeting maybe a different kind of need? Nurses are really able to form those relationships with patients and their families and then provide the type of care they're looking for."
The Daisy Award is recognized internationally as a mark of extraordinary nursing care and has been adopted by health systems around the globe as a way of honoring their caregivers. For her selection, Laura received a special pin for her employee badge, a hand-carved Healer's Touch sculpture signed by the artist in Zimbabwe, a bouquet of daisies and a box of cinnamon rolls to share with her colleagues on 3A. A recognition banner will also be hung in her unit throughout the quarter until the next Daisy Award recipient is selected.
Beyond that, though, and perhaps even more important, she received the affection of a grateful family.
"Words are hard to find to genuinely express my gratitude for the loving care she provided," Robin said. "Thank you, Laura, for being a nurse who has the best interest of the patient in mind. You make me proud to be a part of the Adena family and you will forever hold a special place in my heart."