Community News
Adena/Jackson City Schools Partner on School-based Primary Care Clinic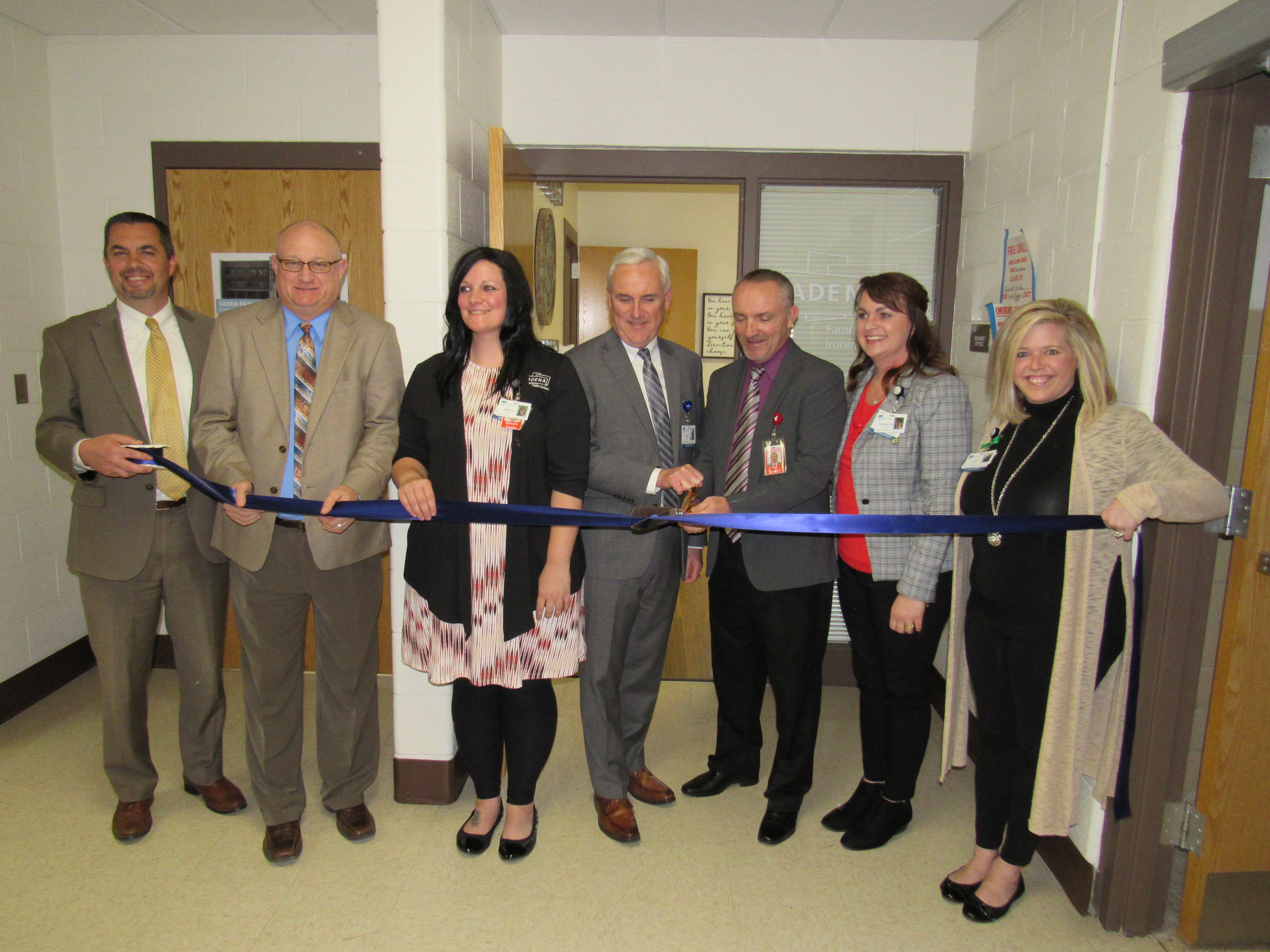 Adena Family Medicine - Ironmen Clinic is officially open to meet the health care needs of Jackson City Schools students and staff. Adena President and CEO Jeff Graham, members of Adena's leadership team, and representatives of Jackson City Schools officially cut the ribbon on Adena's first ever school-based health care clinic during a Tuesday evening program.
The school-based primary care clinic is intended to meet the health care needs of local students, while helping the district achieve its attendance and academic performance expectations.
Growing research shows that the link between a healthy child and a successful educational experience go hand in hand. But too often, some children don't get the health care services they need, and their grades and/or behavior in school can be impacted.
"This partnership, and the resulting clinic within Jackson Middle School, came about to fill a gap in care for children in this community," said Graham. "Adena is committed to making sure students, families and workers throughout our nine-county region have close, convenient access to health care. By opening this clinic on school grounds, we can be assured that students in the district have access to quality health care, when and where they need it."
Jackson City Schools includes three elementary schools, a middle school and a high school. All are within one to five minutes of each other. The District provides transportation to any child who needs to get to the clinic, which offers everything available in a primary care or pediatric office.
Though encouraged to do so, parents do not have to be present for their child to see an Adena provider in the school clinic. Nor do parents or guardians have to worry about transportation barriers, missing work, or other issues that might otherwise prohibit their child from receiving needed care. For parents or guardians unable to be present for their child's clinic appointment, processes are in place to get their consent for treatment, and to keep them informed and active in their child's care.
All visits are billed to the student's insurance. The cost of a visit is the same as any other clinic visit at Adena, and dependent on the complexity of the visit and the procedures performed. No child will be turned away due to lack of insurance or the family's ability to pay.
Adena-employed nurse practitioners are operating the Ironmen Clinic, and provide services consistent with primary care, including:
· Treatment of acute illness such as ear/sinus infection, cold, flu, cough, sore throat;
· Chronic disease management including diabetes and asthma;
· Behavioral health treatment such as anxiety, depression and ADHD/ADD;
· Comprehensive annual wellness exams & sports physicals;
· Immunizations and disease prevention;
· On-site testing for blood sugar, strep throat, flu, hearing, vision and more;
· Lab specimen collection (including blood draws); and
· Reproductive health needs.
In addition to the students, district staff are also able to utilize the clinic's services for their primary care needs.
The Ironmen clinic is open: Monday, Tuesday, Thursday, and Friday from 7:15 a.m. – 4 p.m.; and Wednesdays from 7:15 a.m. – 11 a.m. When school is not in session, the clinic's nurse practitioners will be available for appointments at Adena Family Medicine and Pediatrics - Jackson.
Summer Hours at the clinic at Monday, Tuesday, Thursday and Friday 7 a.m.- 12 p.m.