Community News
Adena Pike Medical Center Patient Making Her Hospital Feel like Home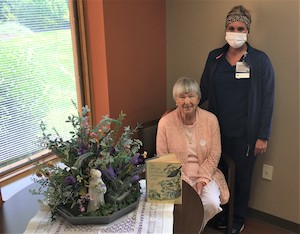 In a world in which social media discourse, political upheaval and an ongoing global pandemic seem aimed at tearing people down, Betty Anderson isn't just a breath of fresh air, she's a whirlwind.
It's impossible to spend even a few minutes with the 85-year-old Piketon resident without feeling a renewed sense of the good that exists in people – and she makes sure you remember that.
"People can lift you up, and when people lift you up, you pass that happiness on to other people," she said while receiving one of her weekly IV infusions at Adena Pike Medical Center (APMC). "I believe I was born with a happy heart, if that means anything. For me, it means that it doesn't take much to make me happy."
That's saying a lot for someone who has had to spend a couple hours every week for the last five years in a bed hooked up to an IV at APMC. She brings that happy heart with her each time she comes in, however, because she gets to spend time with hospital staff who have become far more than simply health care providers to her. With each visit, she also has taken it upon herself to try and pass that happiness along to others by adding her own personal touch to a table in the hospital's main reception area.
"I have many beautiful books and I have many beautiful flower arrangements in my house, artificial ones, and I just saw that table looking so stark with nothing on it," Betty said. "I remembered when there had been things on it before COVID hit, and finally on the Fourth of July, I had had it."
Many of those artificial flower arrangements had been sent to her upon the December death of her husband of 67 years, Norm. Because of the impact of the pandemic on air travel, the funeral and burial of Norm's cremains had to be postponed until the coronavirus relaxed its hold a bit. As a result, she had received enough flowers to make her home "look like a funeral parlor."
Those flowers, along with her extensive collection of coffee table books, came to mind over that Fourth of July holiday and she decided to place a patriotic silk floral arrangement along with a book filled with images and words about America on that table in the reception area for others to enjoy.
"I just thought I'd take that to the hospital and put it on that table so it wouldn't look so stark," she said. "It was the Fourth of July and when I got here, nobody was immediately available in the front, so I just slipped in and put them on that table and I got out of there.
"About three days later, I got a thank you card from Dave (Zanni, APMC Senior Operations Executive Officer) and two others. That bowled me over, it really did. I figured, if anything, I would come back the next week and they would throw them at me. But no, they said to me if you want to do that, please do it as long as you want to." She took that to heart, and now every Thursday when she comes in for an infusion, she changes the floral display and places a different book next to it. It's become one of the ways she has expressed her appreciation for the providers, caregivers and staff who have become a second family over her years-long relationship with the hospital.
That she remains as positive and uplifting as she does is remarkable enough given her medical history. At one point, she said her priest actually came to administer last rites when she was in APMC fighting a losing battle with a sepsis infection until one of the hospital's physicians found a way to save her life.
Her current regimen of weekly infusions to replenish needed nutrients started in the aftermath of four surgeries for a cancer that started in the wall lining of her stomach. While obviously disheartening for her health, the situation created cherished relationships with the nurses and others at APMC whom she unabashedly declares she loves.
"I've got to meet so many wonderful people in this place, it bowls me over," she says with emotion in her voice. "I am lifted up by so many people, especially the people here who have worked on me and kept me alive. My husband was in this hospital, too – he had a fall and was in here two weeks and he got to know the nurses like I did and they were like our family.
That's obvious in speaking with her, as she can quickly rattle off the names of the caregivers she's had, tell you what makes them special and knows what's going on with their own families.
Her feelings are obviously reciprocated by hospital staff. During her weekly visits, several pop their heads in to check on her, and before Betty leaves following her infusion, she makes sure she is wheeled by everyone who helped her that day so she can thank them.
"I don't know how to describe it, but Betty's not a patient to us," said nurse Donya McClurg. "She's prayed with us, prayed for us, we've cried, we've laughed. It's a true friendship. Several of us who take care of her wish we didn't ever have to leave her because the conversation is always so nice."
Betty couldn't agree more.
"I always pray for you," she responded to McClurg, speaking of the entire APMC staff, the depth of her feelings again surfacing in her voice. "This is my hospital, that's what I always say."
You, too, can become part of the APMC family in several ways. Career and volunteer opportunities can be found by visiting Adena.org/careers. Volunteer applications – APMC has volunteer needs primarily for its front desk and gift shop -- may be picked up at the hospital's front desk or requested by calling Tory Walker at 740-947-6311.