Adena Pike Medical Center earns Acute Stroke Ready certification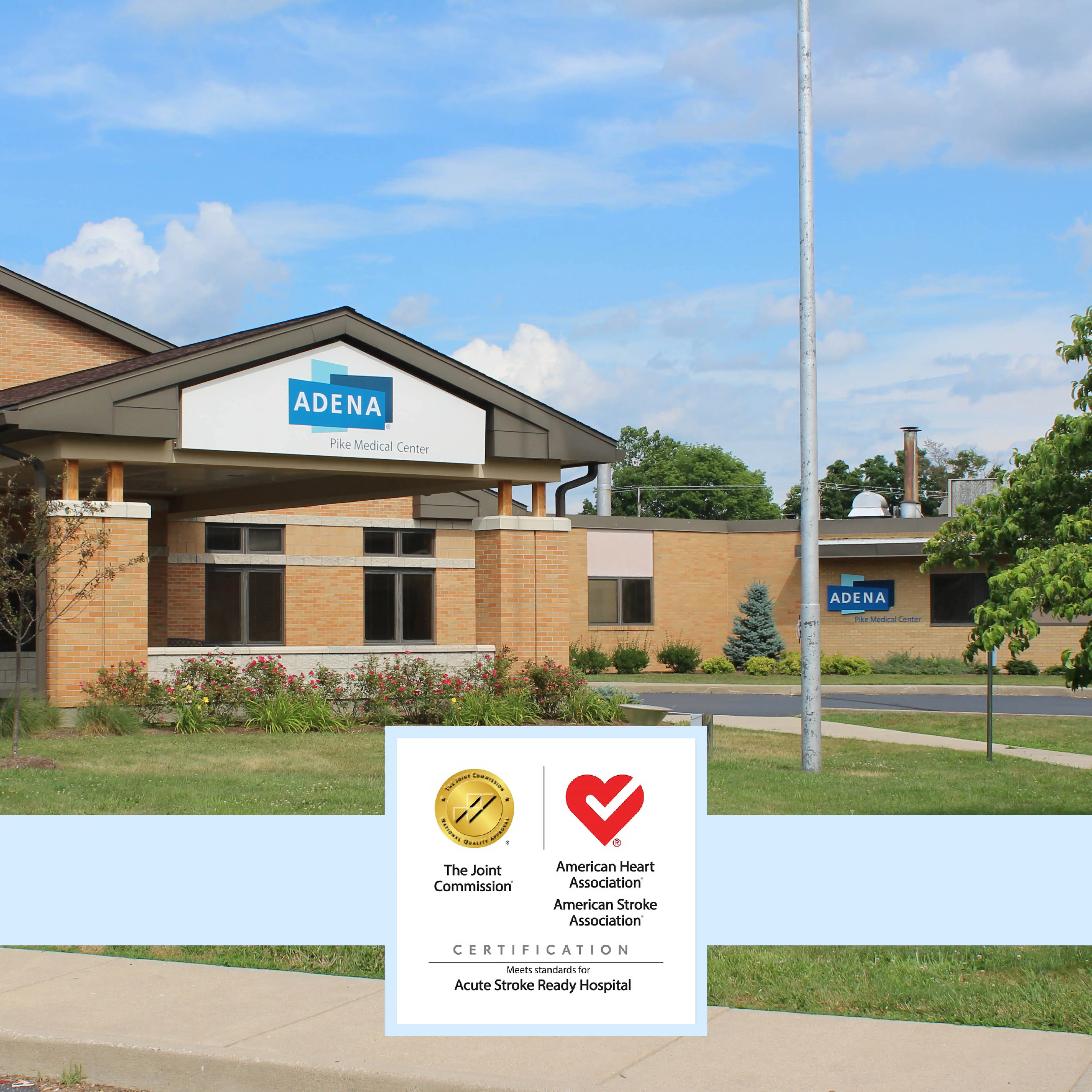 When you or someone you love is experiencing signs of stroke, time to care is critical.

Having nationally recognized, quality care nearby, therefore, may mean the difference between being able to lead the life you want, living with the long-term effects of a stroke or even death.

Adena Pike Medical Center (APMC) recently received that national recognition, successfully navigating a rigorous review process to earn The Joint Commission's Acute Stroke Ready Gold Seal of Approval® certification and the American Stroke Association's Heart Check Mark for Stroke certification.

"Time is brain, so our goal is to get patients the appropriate treatment close to home to stabilize them and then transfer them to an appropriate primary stroke care-certified level facility that they need to continue their care," said David Zanni, Senior Operations Executive Officer at APMC. "You want to get them into an emergency room setting such as we have here at Adena Pike as quickly as possible. You don't want them going too far with stroke symptoms, you need to have that care as quickly as possible to prevent as much damage to the brain as possible."

For example, consider the case of one patient that presented to APMC experiencing right-side weakness and an inability to move their extremities on that side of the body. By being able to see the person in an emergency setting quickly and administering a so-called "clot-buster" medication, the patient was moving those extremities again before being transported for primary stroke level care.

"That patient now, because of that encounter in our hospital, will not have a disability or mobility issue moving forward because we were able to treat that patient here and then get them to the appropriate level of care beyond that," Zanni said. "If that patient hadn't been treated here, it's very possible they could have lost that mobility in those limbs."

The Joint Commission's Gold Seal of Approval® and American Heart Association/American Stroke Association's Heart-Check mark certifies that an Acute Stroke Ready Hospital such as APMC is well-equipped to treat stroke patients with timely, evidence-based care prior to transferring them to a primary or comprehensive stroke center. By getting a patient stabilized and, if necessary, administering clot-busting medications quickly, these hospitals can save a patient's life and prevent them from developing long-term complications from a stroke before transporting them to the next level of care.

Eleanor Bolner, Nurse Manager of APMC's Emergency Department and Stroke Program Coordinator for the hospital, oversees coordination between Emergency Department staff, nursing staff, physicians, pharmacy staff and transport services to ensure that a patient coming in on a stroke alert has everything they need as quickly as they need it. As a result, APMC's metrics demonstrate success in that rapid response:

An average "door to doc" time of 0 minutes, meaning patients exhibiting signs of stroke are being seen immediately upon arrival.
A "door to needle" time of 23 minutes. This involves making sure the symptoms being exhibited are not being caused by low blood sugar levels – which can produce similar symptoms – and then getting the needed "clot-buster" medication injected.
A "door to CT scan" time of 29 minutes, which helps confirm a stroke diagnosis.
A "door in to door out" time of 65 minutes, meaning the time it takes to stabilize the patient and have them on their way to a primary stroke care center for further treatment.

Brandy Strain, Director of Nursing at APMC, said having an inpatient nursing staff at APMC that is stroke-certified to complement the Emergency Department staff is a significant benefit, and the hospital also can offer rehabilitation support close to home during a stroke patient's recovery, creating a total care package from the time a patient first sets foot in the Emergency Department through the recovery process.

"I think it's important for the residents of Pike County and the communities we serve to know that we play and important role in their health and that of their families," Zanni said. "We've won trauma awards, now we're certified in stroke, and we have a true asset for our community in our Emergency Department and in our hospital that a lot of communities in rural areas don't have."

Roberta Henson, Adena Stroke Program Coordinator and Clinical Effectiveness Specialist, said certifications such as this should also inspire community confidence that in the unfortunate event that they or a loved one suffers a stroke, the care process and protocols in place have been carefully reviewed and evaluated to ensure the best possible outcome.

"With stroke, you cannot take the time to stop and think about where you should go, you have to get to an emergency department fast," she said. "This certification is a big deal because it shows APMC is committed to the best practices in care and has taken the next step to have an outside organization come in to scrutinize everything from the time a patient gets there through the whole process. That provides a real peace of mind should you ever need that level of care."

APMC's Acute Stroke Ready certification was awarded at the same time as an identical certification for Adena Greenfield Medical Center. Adena Regional Medical Center in Chillicothe was already certified as a Primary Stroke Center.

Signs of a possible stroke include a sudden numbness or weakness in the face, arm or leg, especially on one side of the body; sudden confusion and difficulty speaking or understanding speech; sudden trouble seeing in one or both eyes; and/or sudden trouble walking, loss of balance or lack of coordination.