Adena Health Receives Lifeline of Ohio Placenta Donation Honor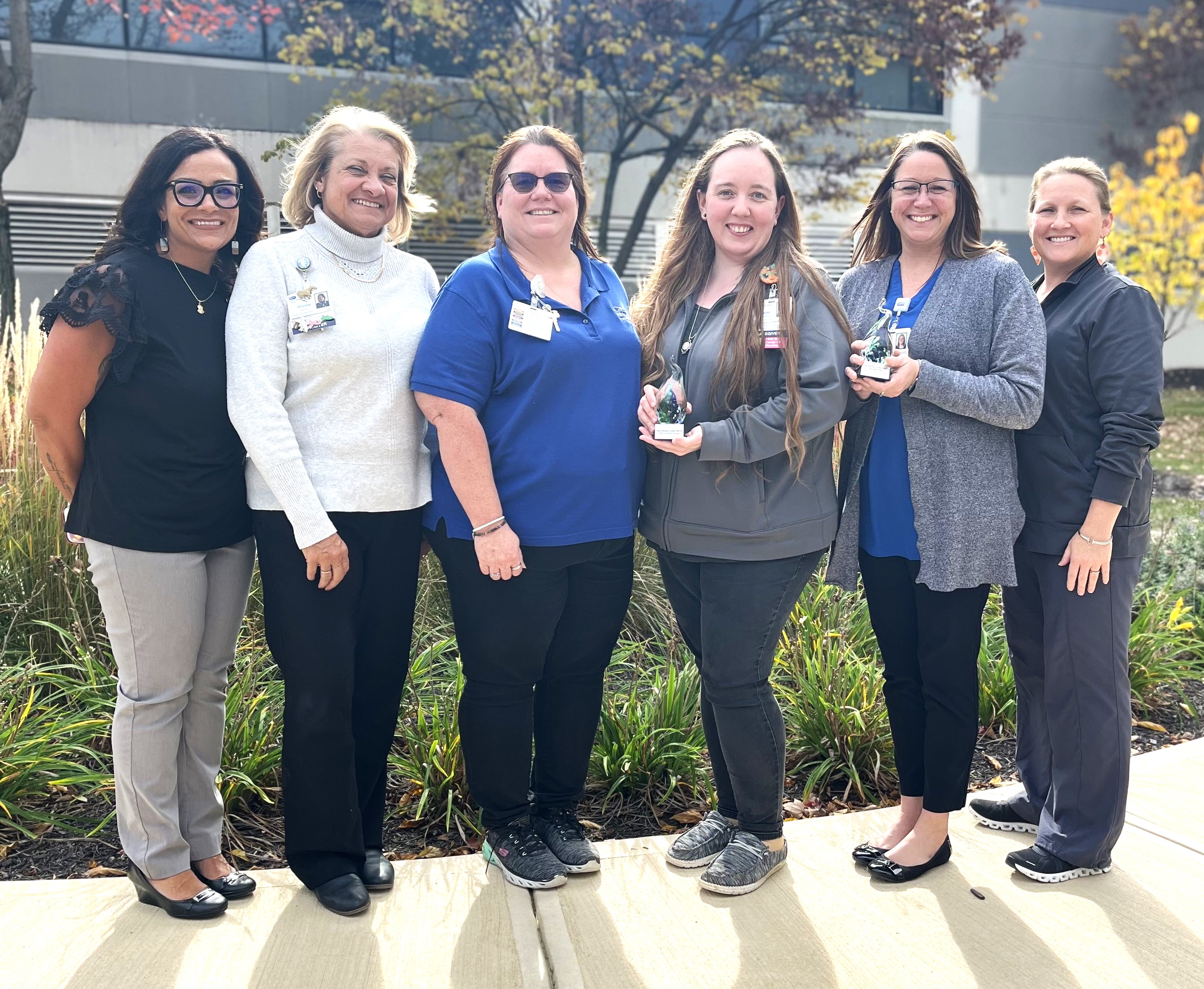 Adena Health's continuing efforts working with expectant mothers in support of a statewide placenta donation program have been recognized for the second time in two years by Lifeline of Ohio.
The most recent honor, a Lifeline of Ohio Champions of Hope Award in the category of OB/GYN Champions, called out the specific efforts of Adena OB/GYN and Adena Women's Health OB/GYN – Blackwater Road in educating mothers-to-be about the placenta donation program and referring those expressing interest to Lifeline of Ohio for more information.
"The two offices that form the OB/GYN practice champion award-winning team are committed to the program, with approximately 300 referrals called in to date," said Bekah Kemper, placenta program development coordinator for Lifeline of Ohio. "The surgery schedulers at both offices ask every eligible patient if they would like to donate and also share information about how placental grafts help others. The staff at both offices are always willing to assist with anything needed and ensure that lines of communication are clear between their offices and Lifeline of Ohio."
Each year, Lifeline of Ohio recognizes and celebrates community champions that advocate for organ, eye, and tissue donation. Award winners across several categories were announced during a recent Champions of Hope Gala in Columbus.
Normally, the placenta, umbilical cord, and amniotic membrane are discarded following a birth, their purpose providing essential needs for a developing fetus having been fulfilled. The placental material provided by donors to the program, rather than being thrown away, can be processed into allografts that can be used to help others in the healing of acute and chronic wounds and other maladies such as burns, skin cancer, scar revisions, venous ulcers, diabetic foot ulcers, pressure ulcers, and vascular ulcers.
Each placenta can produce, on average, 25 of these grafts, which play a natural, biologic role in enhancing natural wound healing.
Since playing a role in its first placental donation in October 2020, Adena Regional Medical Center has been involved with 167 placenta donations from patients and made more than 300 referrals of patients wishing to learn more. The bulk of those referrals have come from the Adena OB/GYN and Adena Women's Health OB/GYN – Blackwater Road offices.
With every scheduled caesarean section birth, surgery schedulers reach out to the expectant mother and introduce her to placenta donation, explaining what it is, how it can help other patients, and laying out the donation process. Far more often than not, the patient has not been aware the program existed and is willing to participate.
Schedulers Laura Davis, Lacey Greathouse, and Melody Scott were highlighted by leadership within the women's health service line for their efforts educating patients about the program. Once a patient expresses an interest in either participating or learning more, they are put in touch with Lifeline of Ohio, which takes over from there.
Adena Health was also honored by Lifeline of Ohio in August 2022 when it reached its 100th donor milestone less than two years after launching its participation with the program. It was just the fourth of 19 participating hospitals at that time to have reached that milestone, bringing a visit from Lifeline of Ohio representatives who praised the participation of the families who donated placentas and those within the health system working with patients to educate them on the benefits of donation.
For more about Adena Health, its health care providers, and full range of services, visit Adena.org, or follow us on Facebook, Instagram, or X @adenamedical.