Adena Health Patient Finds Advanced Women's Care Close to Home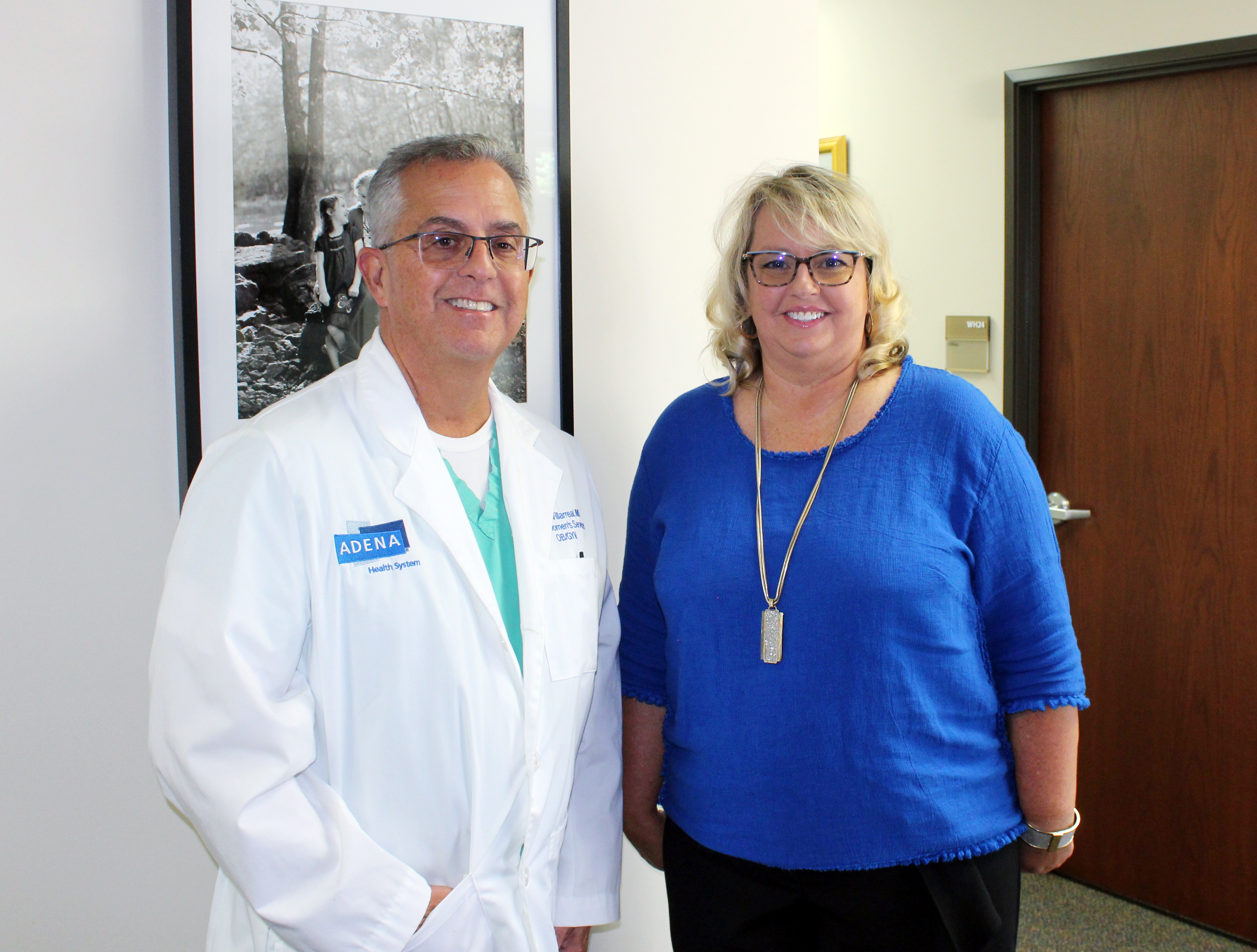 When you learn that your body needs advanced care, it is better to ask questions now rather than wait.
Just ask Ashville resident Michelle Porter, who waited three years to take action after learning she needed a hysterectomy. Michelle's condition reached a point at which she couldn't wait any longer, and she began to ask questions about where to go for her surgery. What Michelle learned was that the quality advanced care she needed was close to home at Adena Health.
Michelle has been a patient of Adena Women's Health for many years and is now under the care of Richard Villarreal, MD, a board-certified OB/GYN and medical director of the program.
"I spoke to one of Dr. Villarreal's longtime associates who had worked at Adena for (more than) 40 years and she said I'd be in great hands," Michelle said.
That reassurance proved to be justified. Michelle scheduled her surgery with Dr. Villarreal at Adena Regional Medical Center.
Michelle said the entire experience involving the hospital, Dr. Villarreal's performance of the procedure, and the whole staff exceeded her expectations. "He's just real caring. He takes time to listen and to make sure I don't have unanswered questions. He's a great guy."
Dr. Villarreal and the team of physicians, nurse midwives, and other women's health experts offer women in south central and southern Ohio access to specialized care close to home for every stage of life. In addition to preventive care and wellness exams, services include:
Adolescent gynecology
Biopsies
Bladder surgery
Gynecology surgery
In-office hysteroscopy exams
Laparoscopic procedures
Menopause care
Nutrition counseling
Obstetrics and prenatal care
Osteoporosis testing (DEXA)
Pelvic rehabilitation
Preventive health screenings and medications
Specialty visits
Ultrasound
Vaginal revisions
Women's support groups
Michelle credits her recovery to Dr. Villarreal's expertise and skill. Calling the recovery period amazing, Michelle said that she was up and walking around in the hospital the morning following the surgery, with little to no difficulty. She said she really had no need for pain medication and that her recovery included regular follow-up by the staff. In fact, the mother of two adult children and grandmother of six noted she felt so good during recovery that she had to be reminded not to overdo it while under lifting restrictions.
"I would absolutely recommend Dr. Villarreal and Adena Regional Medical Center—everything from the moment I arrived until I left went great," Michelle said.
Adena Women's Health offers specialized care for women with locations in Chillicothe, Circleville, Greenfield, Hillsboro, Jackson, Washington Court House, and Waverly. Schedule an appointment by calling 740-779-7201 or visit Adena.org/women to learn more.