Adena Physicians & Staff, Community News
Adena Greenfield Medical Center Nurse Manager Nominated for Prestigious Award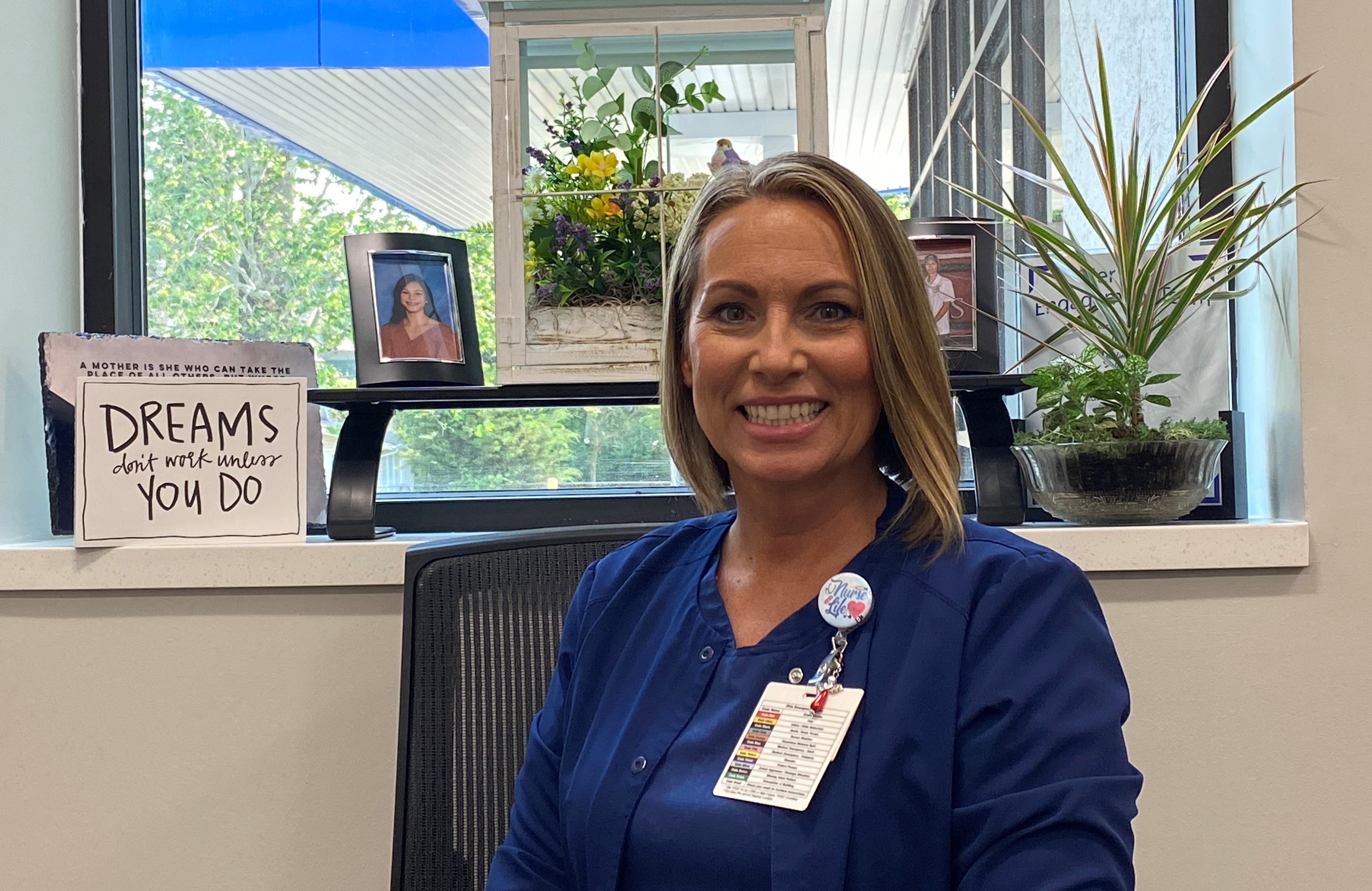 Kris Donley has been very busy since moving into a leadership role in the fall of 2019.
The nurse manager for Adena Greenfield Medical Center's specialty clinic and wound care had mere months to settle into the role before having to lead a staff through a dangerous pandemic, spend a year managing wound care at both AGMC and Adena Regional Medical Center in Chillicothe due to some leadership adjustments, act as an optimization specialist for a system-wide electronic medical record transition, and become involved in activities surrounding construction of AGMC's new medical office building.
She sees taking on extra responsibilities, as has been the case throughout her lengthy nursing career, as just being part of her job -- the result of the "servant heart" she feels she's always had. About a month ago, she learned in a management meeting that the effort hasn't gone unnoticed when AGMC Director of Nursing Lauren King informed her that she'd been nominated for the Ohio Hospital Association's Albert E. Dyckes Health Care Worker of the Year Award.
"I was shocked, honestly," Kris said. "It was definitely an honor. This is my 30th year in nursing and I've done a lot of different things, but I do feel the last couple of years since I've been in this leadership position – almost four years – that I've found something that really drives me."
Quick with a smile, she's even quicker to give credit to others.
"I couldn't have made it through the medical office building project or helping at ARMC if it wasn't for those on my team who hold the fort down," she said. "I have been confident that in my absence or in busy times for projects over the last few years, they would always go above and beyond to make sure no balls were dropped. They are truly great people."
The award is presented each year to one Ohio caregiver who personifies a leader; motivates colleagues; influences others; provides valuable service; personifies the mission, vision, and values of their organization; and has an impact in their community. Kris was one of just 57 health care workers from across the state to be nominated for the prestigious honor.
While Kris was not selected to receive the award during an OHA banquet in Columbus this week, it did not diminish the thrill of having been nominated.
"It was such an honor to even be considered, and I hadn't even thought about the possibility of winning," she said. "I just love the fact that my leadership team gave me the honor of being nominated. I read the bios on all the other nominees and they've got some really incredible things people have done, so just to be considered in this group is phenomenal."
Kris always knew she wanted to turn her desire to be of service to others into a career, she just wasn't always sure what direction that would take her.
"I feel like I've always had a servant heart, so I've always felt like a nurturer and caretaker," she said. "I wasn't sure when I finished high school what I was going to do. My sister-in-law was a nurse, so we would talk about things she was enjoying and I thought probably that was the direction I should go so I could have a career that plays to my nurturing and caretaking instincts."
After working in Highland and Fayette counties, she joined Greenfield Home Health in 1998 and became a member of the Adena family a year later when the Greenfield hospital joined the health system. In the OHA nomination form,
"Kris is a humble leader that does not expect recognition and is consistently focused on improving opportunities for our patients' benefit," King said in the nomination. "She advocates for our patients, markets providers, and partners with the community to ensure care plans are optimal and efficient. She embraces her role and picks up additional responsibilities to meet the needs of the community."
Through it all, King said Kris has earned an enormous amount of respect and admiration from colleagues and leadership alike and is an inspiration to others.
Kris' desire to serve doesn't end when she heads home at the end of the day. She serves as AGMC's representative on the Growing Greater Greenfield committee, assists with the AGMC fall gala to raise funds for the Adena Health Foundation's work in the west market, has participated in the setup of the Festival of the Bells in Highland County, and is a supporting member of the AGMC's Greenfield Community Council.
Kris believes in the importance of community involvement and urges those who feel they don't have time to become involved to look at doing anything they can within the time they have – no matter how big or small – to make a difference.
"For me, it just comes with the servant mindset," she said. "I grew up in Leesburg, a small community with not a lot of people available sometimes to be able to get involved and help, so I think any time we can step outside of ourselves and our lives to help our community and give back, it just benefits everyone."
She also holds tight to the lessons taught by her parents regarding treatment of others, something that has served her well in her nursing career.
"The way I was raised, we were taught to be kind to everyone, help where you can, be a support when you can, and that if you want something, you work for it," she said.