Naval veteran 'so much better off now' after cardiac procedure with Dr. Jarrod Betz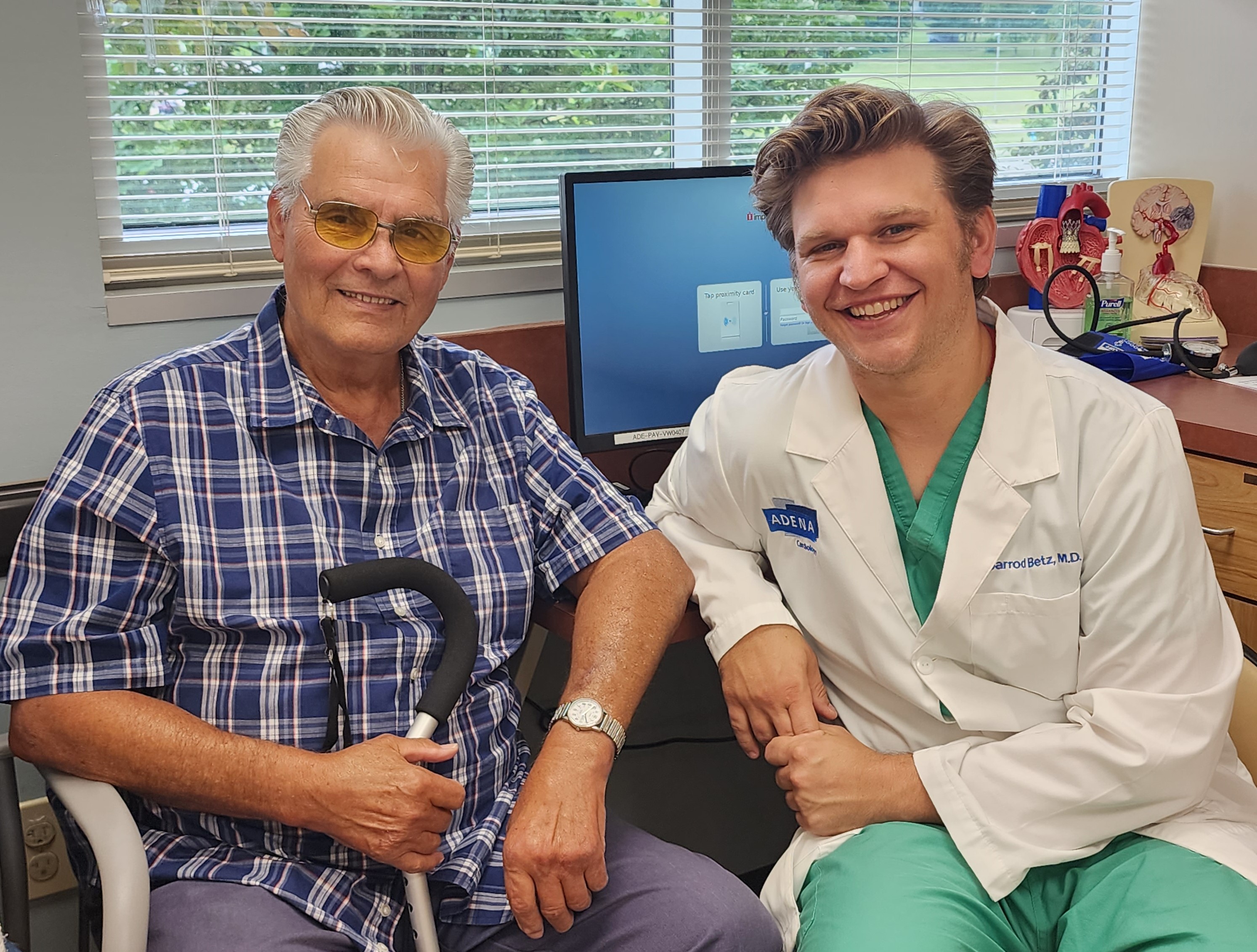 John Hayes has lived with heart issues since his 20s, so when he began experiencing problems in 2022 that were unlike any he'd dealt with before, he knew something was seriously wrong.
"I couldn't walk very far, I could maybe go eight or nine yards and I'd be worn out," he said. "I'd get a lump in my throat, I'd get indigestion. I was just messed up, and I knew there was something else going on."
That fear came to a head for the 75-year-old U.S. Navy veteran when his heart rate had dropped to less than 30 beats per minute and he had to be transported to Adena Regional Medical Center where he would have a meeting that changed – and possibly saved -- his life.
John clearly remembers the moment that Jarrod Betz, MD, an interventional cardiologist, sat on the end of his bed and said, "If you don't get something done with your heart pretty quick, you're not going to be here." Dr. Betz noted problems with John's aortic valve and took the time to walk John and his wife through what appeared to be happening, urging him not to wait to have someone take action on it.
John had been a patient of an out-of-town cardiologist for decades, and while he still thought highly of his longtime doctor, he decided to keep his care local and have his procedure done at Adena Health. Dr. Betz, upon further examination, diagnosed John with arterial blockages and kept him in the hospital for monitoring ahead of conducting an angioplasty with a stent, a non-surgical procedure used to open narrowed or blocked sections of the artery.
"What impressed me so much about Dr. Betz is he is so caring of his patients, so caring," John said. "I've been around a lot of cardiologists, but I've never had one do what Dr. Betz did that night. It was near midnight that night after the procedure and I was laying in the bed at the hospital and he shows up at that late hour to ask how I was doing."
A few weeks later, John underwent a transcatheter aortic valve replacement (TAVR) performed by Dr. Betz and cardiovascular surgeon Atiq Rehman, MD, to take care of the issues with the aortic valve. The TAVR procedure is minimally invasive, requiring only a small incision to gain access to replace the valve rather than the more invasive traditional open heart surgery.
The recovery, John said, went very well and was aided by Dr. Betz and the cardiac staff.
"He has checked on me and followed my progress and the nurses have followed me," John said, noting that Dr. Betz has personally called him at home a few times to see how he was doing, something no other doctor has done for him. "He did what a cardiologist, I think, should do. He's very, very rare and I don't think you're going to find another one who is as good and as caring as the one you have there at Adena."
The aortic valve procedure took place in June 2022, and now John can ride a stationary bike for 30 minutes a day, work in his garden, collect firewood and, if not for other mobility issues he's had as the result of other health problems, he imagines he could probably walk "a good, long way" as a result of Dr. Betz's efforts.
"Long story short, I'm better off now than when I first met him, so much better off now," he said. "I appreciate Dr. Betz very much."
For more about Adena Health's heart and vascular services, and its health care providers, visit Adena.org/heart.