Adena Physicians & Staff
Adena Globally-Recognized as a Gallup Great Workplace for Second Consecutive Year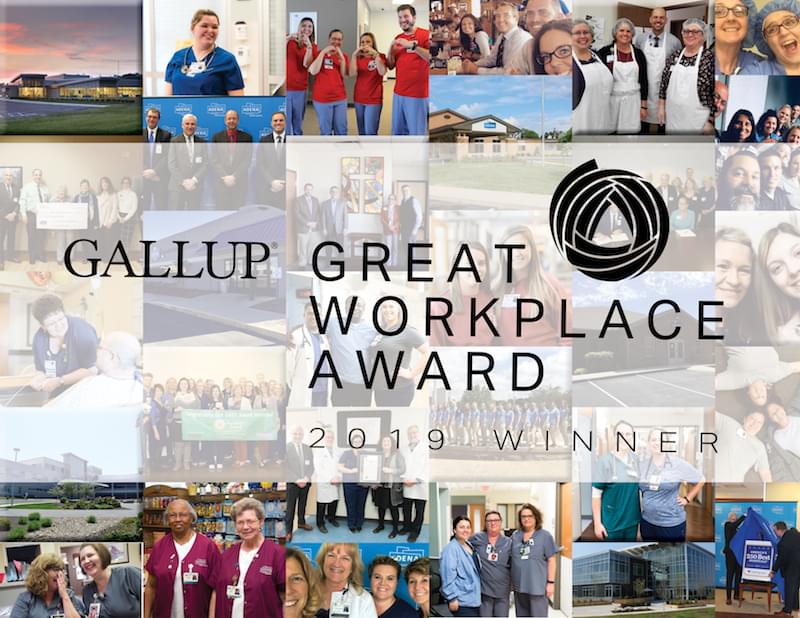 Adena Health System has been named a Gallup Great Workplace. A four-time Gallup Great Workplace Award winner, Adena is one of just 40 organizations in the world to receive this distinction in 2019.
"Being recognized as a Gallup Great Workplace among a handful of global organizations is a big achievement; and sustaining that level of employee engagement for consecutive years is what sets us apart," said Adena President and CEO Jeff Graham. "Having engaged employees is a foundation for delivering outstanding quality care with an exceptional patient experience, and a major driver in what leads people to choose Adena over other health care choices they have. I couldn't be more proud of the work being done at all our facilities. Engaged caregivers have been the catalyst in Adena Regional Medical Center being named one of America's 250 Best Hospitals for 2019 by Healthgrades, a 50 Top Cardiovascular Hospital by IBM Watson Health and a 4-Star Hospital by Hospital Compare, as well as Adena Pike Medical Center earning a 5-Star Hospital Rating by the Centers for Medicare and Medicaid Services."
According to Gallup, about 15 percent of workers worldwide show up engaged and ready to maximize their performance each day. However, a few exceptional organizations, like Adena Health System, have more than 70 percent of their workforce ready to exceed expectations.
The Gallup Great Workplace Award honors those organizations that realize exceptional performance by creating outstanding workplace cultures. Gallup's rigorous criteria ensure award winners represent some of the world's best workplaces.
To be considered for the award, organizations must meet the following minimum criteria:
· Administer Gallup's Q12 employee engagement survey;
· Receive a high, qualifying response rate; and
· Receive a qualifying score that places them in the upper echelon of organizations in Gallup's global database.
"Adena has cultivated a culture of employee engagement, development and service excellence," said Faitha Shelton, Interim Chief People Services Officer. "Being recognized as a multi-year Gallup Great Workplace places us in a unique class. We are not only looked at as a top health care provider, but as an organization where employees feel valued, which translates into better patient care."
As a result of its engagement efforts, in 2018, Adena retained more than 92 percent of its overall workforce. The Health System also had a 2018 physician retention rate of nearly 96 percent.
Gallup Great Workplace Award winners represent a wide range of industries and countries, and set a high standard for what the world's employers can achieve. In addition to being a 2019 Gallup Great Workplace Award winner, Adena Health System earned the honor in 2014, 2015 and 2018.
To learn more about the 2019 Gallup Great Workplace Award, visit http://on.gallup.com/2HWtpst.
To learn about career opportunities and how to join our team, visit adena.org/careers.