Foundation
Caregiver Campaign Nets Record Amount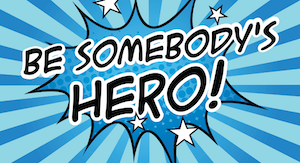 Not all super heroes wear capes. Ours wear Adena badges.
The Adena Health Foundation wrapped up its 2019 "Be Somebody's Hero" Caregiver Campaign which resulted in a record amount raised by a record number of employees. The campaign allows Adena staff the opportunity to give back to the health system and communities they serve. This annual effort also acts as an opportunity for employees to make a gift that will one day make a difference in someone's life.
Thanks to the generosity of 1,620 employees contributing to more than 30 different Foundation funds, the campaign raised $195,000. This overwhelmingly exceeded last year's giving total by $95,110. Since the campaign's inception four years ago, Adena employees have contributed $395,000 to the "Be Somebody's Hero" Caregiver Campaign.
"Thanks to all our caregivers who are committed to supporting the mission of the Adena Health Foundation," said Rebekah Clevenger, Interim Executive Director. "Your generosity is truly appreciated by the patients and caregivers who rely on its support."
She added, "Each year we are blessed by the commitment of our Campaign Steering Committee members to provide their input, their time, and passion to make each year more successful than the last. These committee members make campaign deliveries to locations all across the health system, volunteer their lunch breaks for staff sign-up booths, and champion the campaign every day with their colleagues. Thank you to our Caregiver Campaign Steering Committee for all of our hard work."
The seven-week campaign is an opportunity for Adena employees to support a variety of Foundation funds that assist needy patients, enhance patient care and strengthen our communities. Donations to the Adena Health Foundation can be made at any time of the year by visiting, www.adena.org/foundation
2019 Caregiver Campaign Steering Committee Members:
| | | |
| --- | --- | --- |
| Mary Bethel | Paige Farmer | Michele Sigler |
| Elizabeth Billman | Kelly Hopkins | Kaylen Spradling |
| Missy Brenner | Amanda Hughes | Patricia Strausbaugh |
| Nicole Bullock | Jessica Jarvis | Jacob Summers |
| Kimberly Carpenter | Candice Lefevre | Teneka Willis |
| Suanne Chenoweth | Tricia Lucas | Barbara Wolf |
| Lori Clark | Katelyn Maxwell | |
| Heather Cousins | Jill McCoy | |
| Becky Dumm | Shannon Morgan | |
| Joei Gill | Abbey Ott-Shaw | |
| Suellen Gillum | Macey Power | |