Medicare 101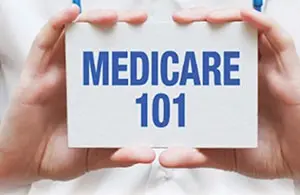 Let's Talk About Health Insurance

Insurance. Everybody needs it, but no one wants to talk about it. That's because insurance information can be:

Health insurance can be even more frustrating to understand. Especially when you add federal oversight to the mix.

Everyone had heard of Medicare, but how many of us really know what it is? And why does everyone talk about it more during certain times of the year?

Let's explore the world of Medicare using easy-to-understand explanations to answer all the questions you never thought to ask.

What is Medicare?
Medicare is national health insurance for all Social Security recipients (people 65 or older). You are eligible to sign up for Medicare three months before you turn 65. You may be eligible to get Medicare earlier if you have a disability, end-stage renal disease (ESRD), or ALS (also called Lou Gehrig's disease).

Coverage under Medicare is similar to what you receive from private insurance companies - it pays a portion of the cost of medical care.

Medicare is not a welfare program. Your income and assets aren't a consideration for eligibility or benefits payment.

Parts of Medicare
Medicare offers different options for health care coverage. These are known as "parts" and include:

Part A (hospital insurance): This helps cover inpatient care in hospitals, skilled nursing facility care, hospice care and home health care.
Part B (medical insurance): This helps cover services from doctors and other health care providers, outpatient care, home health care, durable medical equipment (such as wheelchairs and walkers) and many preventive services (such as screenings, vaccines and wellness visits)
Part D (drug coverage): This helps cover the cost of prescription drugs.

Medicare options
When you first sign up for Medicare, you can choose which way to get your Medicare coverage. There are two main ways:

Original Medicare

Original Medicare includes Part A and Part B.
You can join a separate Medicare drug plan to get Medicare drug coverage (Part D).
You can use any doctor or hospital that takes Medicare, anywhere in the U.S.
To help pay your out-of-pocket costs in Original Medicare, you can also buy supplemental coverage, like Medicare Supplement Insurance (called Medigap), or have coverage from a former employer or union, or Medicaid.


Medicare Advantage (also known as Part C)
Medicare Advantage is a Medicare-approved plan from a private company that offers an alternative to Original Medicare for your health and drug coverage. These are bundled plans that include Part A, Part B, and usually Part D.
In most cases, you'll need to use doctors who are in the plan's network.
Plans may have lower out-of-pocket costs than Original Medicare.
Plans may offer some extra benefits that Original Medicare doesn't cover, such as vision, hearing, and dental services.

What Medicare doesn't cover
No matter what type of Medicare plan you choose, certain services aren't covered. These can include:

Hearing aids
Overseas care
Podiatry (foot care)
Cosmetic procedures
Chiropractic care

The difference between Medicare and Medicaid
Medicare is federal health insurance for anyone age 65 and older. Medicaid is a joint federal and state program that provides health coverage for some people with limited income and resources. Medicaid offers benefits, like nursing home care, personal care services and help pay for Medicare premiums and other costs.

When you can sign up for Medicare
There is a seven-month window you can sign up for Medicare. This is known as the initial coverage election period (ICEP). If you plan to work past age 65, these times can differ:
Three months before your 65th birthday
The month of your 65th birthday
Three months after your birthday
You may have noticed that Medicare seems to be everywhere during the fall. That's because the annual enrollment period (AEP) is October 15 through December 7.

Medicare Advantage has an open enrollment period (OEP) from January 1 through March 31.
What plan will be right for you?
Everybody has different needs, and Medicare plans were designed to meet those changing needs. That's why it's important to pick the coverage that works for you. Here are important things to consider when thinking about your options:
Costs - Keep these expenses in mind:

Monthly premiums
Copays, coinsurance, deductibles and out-of-pocket costs
Your prescription drugs

Network - See if the plan includes:

The hospital and health care facilities you use
Your primary care provider
Any specialists you see
Your pharmacy

Extras – Think about what else you may need:

Dental
Vision
Hearing
Fitness membership
Clear as mud?
If your head is spinning, don't worry. There are a wealth of resources available to help you when the time comes to sign up for Medicare. When you become eligible, websites like medicare.gov and AARP provide up-to-date, accurate information about coverage and delivery options, including supplemental health insurance, Medicare health plans and prescription drug coverage.