Circleville Resident Credits Adena Weight Loss Program with Lifestyle Change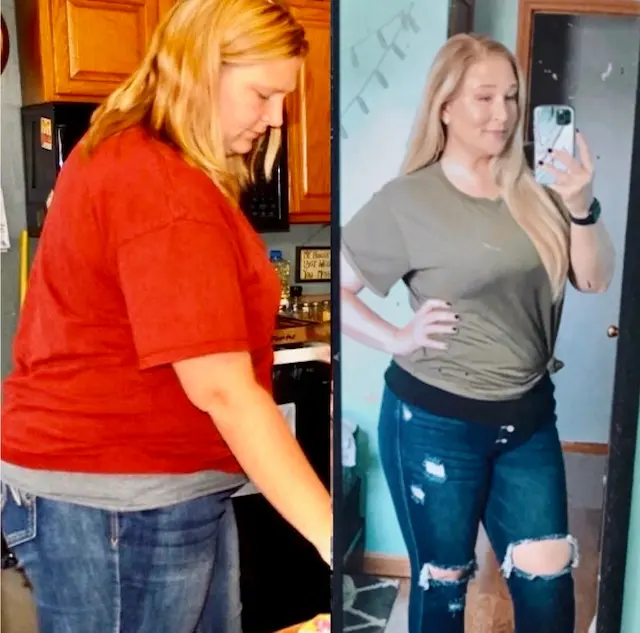 When it comes to weight loss, you can't rush success.
Just ask Circleville resident Amanda Carmichael, who in 2018 followed a diet that helped her lose 95 pounds in a relatively short period of time. That wasn't all she lost, however, as her gallbladder had to be removed a year later.
"I had to have an emergency gallbladder surgery because my gallbladder wasn't able to deal with my body losing weight that fast," Amanda said.
Now, Amanda is doing well in her efforts to control her weight, in large part through the help of Adena Family Medicine Circleville physician Dr. Yemi Olatunde and a special weight-loss program featuring oral medications. Over the past four years, she has changed her eating, exercise and other lifestyle habits in a more disciplined approach to weight loss that's also been healthier on her body.
Dr. Olatunde, who specializes in internal medicine, helps patients achieve healthy lifestyle habits primarily through non-surgical weight loss options and various lifestyle modifications. Her work addresses a significant problem both locally and across the country, with obesity prevalence in the United States having increased from 30.5% in 2000 to 41.9% by the start of the COVID-19 pandemic in 2020, according to the Centers for Disease Control and Prevention (CDC).
Like many others who have considered weight loss, Amanda – at 310 pounds when she began her journey – dropped the 95 pounds in order to simply be healthier for her family. When she lost her gallbladder and started asking questions as to why, she learned that such drastic weight loss put too great a strain on the organ to where it simply could not keep up with its job as a storage pouch for bile that aids in digestion.
Amanda contacted Dr. Olatunde in early 2021 and was placed on a healthy diet consisting of clean foods, vegetables, and increased water intake. Shortly thereafter, she started taking phentermine, a popular short-term weight loss drug commonly known as Adipex.
"I'm an emotional eater at times, so I didn't progress as much as I wanted to at first," Carmichael said. "I needed Dr. O's help to get me back in the right direction."
After her stint with Adipex, she and her clinical team discovered a breakthrough medication: Naltrexone/bupropion, also known as Contrave. This pill took her improvement and pushed it forward more effectively than when she was using Adipex.
It wasn't easy at first, though.
"Although it helped me with my appetite and I wasn't hungry and didn't crave anything, it was still hard planning dinners," she said. "At first, it made things difficult. I'd say, 'I want this for dinner,' but nothing really meshed."
Carmichael stuck with the plan. Since January 2021, her hard work has paid off with an additional 30-pound weight loss – one that has been more disciplined and healthier for her body. The experience has made clear that there's no magic diet pill answer to healthy weight loss, despite the perception, and that the best solution involves eating right, staying active, exercising and making good lifestyle choices.
Amanda also has learned how to change her habits and routines and become more deliberate about planning meals, grocery shopping and being active.
Even her kids have taken notice.
"My family is amazing and very supportive," she said, noting that she hasn't had soda in three years and her husband has quit drinking it entirely with her. "My three kids notice that I put proper nutrition in my body. I'm more energized and I'm able to play with them more. I'm teaching my kids how to take care of themselves."
That said, indulging in a treat once in a while is a good thing and keeps her balanced.
"We live near an ice cream place and walk to get a treat sometimes," she said. "Sometimes, at dinner, I'll make different sides, such as mashed potatoes. But all my kids eat veggies, too.
"The ice cream, once in a while, is fun. You can't restrict yourself all the time."
She also finds fun in the constant activity that she knows is important for keeping the weight off, playing basketball or volleyball regularly outside with her children and dancing to get her heart racing. She plans on joining a gym to get in some regular workouts as well.
While her family's support is valuable, so is the advice from Dr. Olatunde, who regularly asks how she's doing and holds her accountable for her success. The proof is in the numbers: Amanda's body mass index (BMI) has dropped from 36 to 32 since she started working with the physician.
"She makes sure you're succeeding and getting to the goals you want to get to," Amanda said. "If things aren't working, she'll see that and help you as best she can."
To learn more about Adena's nutrition services, visit https://www.adena.org/types-of-care/specialties/nutrition. To learn more about weight loss services provided by Dr. Olatunde, please call 740-420-3000.