Where Should You Go?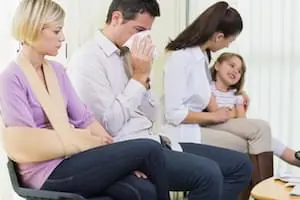 Doctors break down Emergency Room and Urgent Care visit guidelines

The name "emergency room" should be self-explanatory. However, in many cases, people use the ER when they should go to a clinic or urgent care facility.
Dr. Jeremy Parsons and Sally Lawton, certified nurse practitioner, offer their thoughts on Adena Health System urgent care providers, and where to go and when.
Why do so many people use the ER for non-emergencies when they can simply visit an urgent care center or a clinic and get checked out?
PARSONS: Convenience is the main factor. The ER is open 24/7. Urgent care (or a clinic) is open limited hours, so they go to the ER. Either they do not have a primary care provider, they cannot get in to see their PCP, or they do not want to wait for an appointment.
Can you compare the services received in an ER or an urgent care facility?
P:Urgent care is intended to care for and manage lower acuity/ severity health concerns. Our urgent care facilities are staffed by a physician or mid-level provider, or a combination of both at the Western Avenue branch. We handle smaller injuries and illnesses, such as ear infections, sinus infections, colds and sprains/strains, rashes, minor abdominal pain, urinary tract infections, pregnancy testing, mild headaches and minor lacerations.
Our urgent care facilities provide basic ancillaries including X-ray, urine dipstick testing, rapid strep, rapid flu, RSV and urine pregnancy testing. However, unlike the ER we do not offer CT scans, MRIs, ultrasound or serum labs. We do, unfortunately, receive patients on a regular basis who present with complex complaints such as severe abdominal pain or chest pain, hoping to have labs or additional testing performed. If a patient feels ill enough that they believe they need serum labs or additional ancillaries beyond what we can offer, an ER visit is recommended.
The ER is structured to handle more severe medical conditions/ situations, such as trauma, difficulty breathing, chest pain, abdominal pain, stroke, head injuries, eye injuries, high blood sugar/blood pressure with headaches or dizziness, complicated lacerations and potentially fatal illnesses, such as pneumonia, shortness of breath in children that may not be best managed on an outpatient/home basis.
What are the strong points and the weakness of each?
P:The ER has more resources to evaluate and treat a patient, such as lab, imaging and specialty consults if needed. The weakness of the ER directly correlates to their higher acuity of patients received, in that the wait may be longer. In urgent care, only basic testing is performed if necessary. I see this as a strong point. This structure is what should allow for quick visits in an hour or less.
Is it more of a convenience factor, the thinking that "It's an ER, they have to see me?"
LAWTON:At urgent care, even if they present with an issue that cannot be handled there, they will be evaluated and advised to go to the ER if needed.
Do the people who do not really need to see an ER doctor clog up the system and make it difficult for those who really need an ER doctor?
P:I do believe this. Some patients will be okay to wait and be seen in urgent care or by their PCP in the next 24 to 48 hours, but they go to the ER to be seen.
L:Most of the time this occurs for three reasons: 1) They did not believe their issue was that serious. 2) They did not want to wait at the ER regardless of how mild/serious the problem. 3) They believe they can get into the ER quicker by coming to urgent care and being transferred.
What are your thoughts on urgent care centers?
P:There are multiple benefits to urgent cares over ERs. One such benefit is private insurance co-pays are generally less for UC than ER, as well as the overall cost. Most urgent cares have a "turn-around time" goal, which is usually to complete a patient visit in under one hour.
How do we get the word out about these urgent care centers? Are people afraid to use them or not sure they are "as good" as an ER?
P:Urgent cares are staffed with licensed physicians and midlevel providers, same as the ER. All patients will receive great care at either facility.
Can you get prescriptions from doctors in urgent care and/or ER?
P:Yes. However, it is the provider's discretion if and what medications are prescribed.
What do you do if you get sick on a weekend?
L:If it is a simple cold or stomach bug, urgent care or a clinic are great places to go. Check online for hours of operation. If your condition feels more serious or it is after hours for urgent care, please go to the emergency room.
URGENT CARE FACILITIES
ADENA URGENT CARE - WESTERN AVENUE
740-779-4000
Open 7 days a week from 8 a.m. to 9 p.m.
55 Centennial Boulevard
Chillicothe, OH 45601
937-393-7630
Open 7 days a week from 8 a.m. to 8 p.m.
160 Roberts Lane
Hillsboro, OH 45133
740-941-5100
Open 7 days a week from 8 a.m. to 8 p.m.
12340 State Route 104
Waverly, OH 45690
CLINICS
THE CLINIC AT WALMART - CHILLICOTHE
740-779-8979
Monday through Saturday - 9 a.m. to 7 p.m.
Sunday - 12-5 p.m.
85 River Trace Lane
Chillicothe, OH 45601
ADENA FAMILY MEDICINE - CIRCLEVILLE WALK-IN CLINIC
740-420-3000
Monday through Friday - 2 to 8 p.m.
Saturday - 9 a.m. to 6 p.m.
Sunday - Closed
140 Morris Road
Circleville, OH 43113
740-395-8080
Monday through Saturday - 8 a.m. - 8 p.m.
Sunday - 10 a.m. - 6 p.m.
1000 Veterans Drive
Jackson, OH 45640