Why Choose Adena for Your Next Surgery?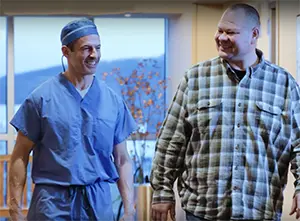 We understand patients have choices when it comes to their health care needs, especially when those needs include surgery. At Adena, our goal is to help make those decisions easier for you and your family by offering the latest in surgical advancements, and care that is close to where you live.
But you don't have to take just our word.
Since Adena Health System began its Robotic Surgery Program in October 2012, it has transformed from an upstart to becoming nationally recognized as an "Epicenter of Excellence." Adena is just only one of five hospitals in Ohio to receive this distinction.
Adena is capable of performing 26 types of robotic surgeries. We also recently became the first in the region to offer robot-assisted orthopedic surgery for total knee, partial knee and total hip replacements.
Paul Blankenship loves to play guitar. But it was another instrument that helped him get back on stage fast. The state-of-the-art da Vinci surgical system allowed his doctor to perform complex prostate surgery through just three tiny incisions. As Paul can confirm, the results were incredible. "There was very little scarring. And there was so little pain; I didn't even have to use my medication." Most importantly, Paul was back at work and playing his gigs in just a few weeks. "Why should you have to go to Columbus, Cleveland or anywhere else to get this kind of technology when it is available right here," Paul said. "This is local, this is home. I would definitely recommend robotic surgery for anyone considering it."
When Nicole Alexander found out she needed gallbladder surgery, she wanted a solution that would get her back to her family and active lifestyle quickly. The surgeons at Adena offered her minimally-invasive surgery using the da Vinci surgical robot, and Nicole was back on her feet fast. "I went in for my procedure at 1 p.m. and I was home walking around by 8," Nicole recalled. In a matter of days, she was ready to resume her busy life with her family and workouts at the gym. "Instead of five incisions with a traditional laparoscopy there was only one, and the scar wasn't even an inch long," Nicole added. "And now, I can hardly see it at all."
Here are the top six reasons to choose Adena and its surgeons for your robot-assisted surgery:
1. Care close to home. While you used to have to travel to other parts of the state to get this procedure, you can now benefit from the most advanced surgical techniques right here at home.
2. Familiar faces. Many of the surgeons, nurses, anesthesiologists and other caregivers at Adena grew up as your neighbors and friends here in south central Ohio. They are community members caring for their community.
3. Patient satisfaction. Patients rank Adena among the top 10 percent of hospitals nationally for satisfaction- and that score is climbing. In addition to your surgeon, you will be cared for by our hospitalists, physicians who devote all of their time to caring for our hospital patients. They ensure your needs are met, your questions are answered and your care is coordinated at all times.
4. Experience and expertise. Our surgeons performed more than 10,000 inpatient and outpatient surgical procedures last year. This type of experience, combined with the intensive training Adena surgeons receive, specifically on the da Vinci and Mako Surgical Systems means you can have peace of mind.
5. A full spectrum of care. From office visits to the OR to your hospital room, Adena can offer you and your family all the health care services you will need to stay healthy. Our doctors, nurses and other caregivers pride themselves on treating you like a person, not just a patient. You and your best health are their highest priority.
6. Latest Technology. Our robot-assisted general surgery or orthopedic surgery options provide unparalleled precision, dexterity and control that enable a minimally-invasive approach to many complex surgical procedures.
For more information on Adena's minimally-invasive surgical options, call 877-779-7585 or visit adena.org/robot.