Mary Peecher's 55 years of Volunteering Earns Top Honor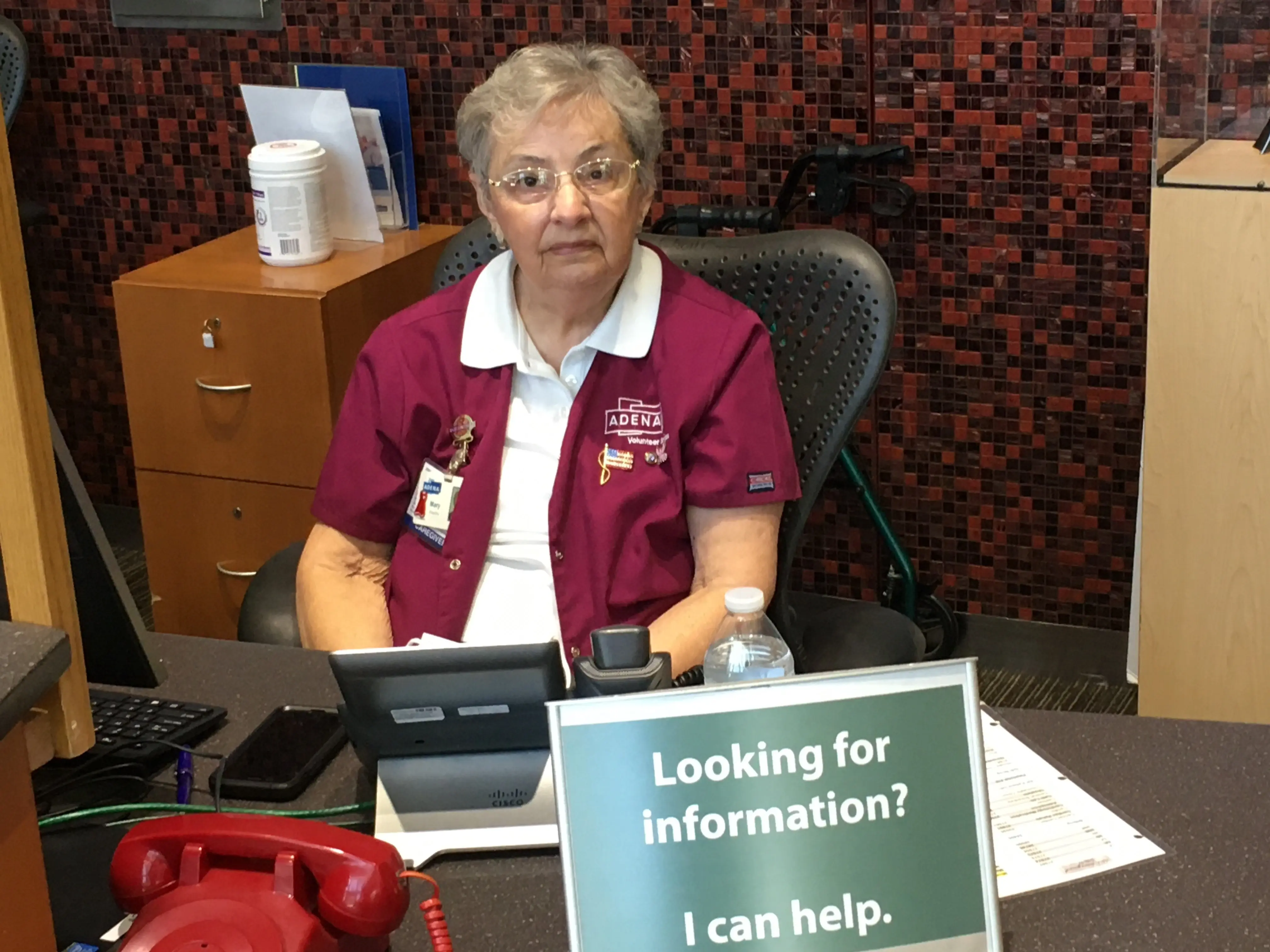 The sign that rests in front of Mary Peecher every Monday afternoon in the North lobby of Adena Regional Medical Center clearly tells visitors, "Looking for information? I can help."
That being the case, let's give it a shot. How did she feel during the recent Caregiver Awards ceremony when, after 55 years of volunteer service to Adena, she was presented with the Volunteer of the Year Award?
"I appreciated it," she said in between helping direct visitors to where they needed to go in the hospital. "I don't like to be in the limelight, though, so if they just would have handed me something in secret, that would have been fine. I was glad my kids were here, they gave me moral support. They told their dad they would take care of me, and they have."
Mary had four children with her late husband, Gale, during their 62 years of marriage. The couple was devoted to volunteer work with Adena, Gale having spent the last several years of his life serving in a variety of volunteer roles. In addition to working with the hospital chaplain, he would sit with patients in the Emergency Department and share a prayer with them if they so desired and, because of his own history of heart issues, also spent time sitting with and calming patients facing their own heart procedures, sharing his personal experiences.
It was in 2017 when his own health became an issue that it became common to see Gale sitting alongside his wife at the information desk.
"He felt so bad that it was easy for him to sit there and fall asleep, but I dragged him out here and let him know he couldn't just stay in the house and not do anything," Mary recalls. "I guess he thought he might as well join me because at that point, I wasn't going to give it up because it was just something I like to do. Once you get started, volunteering just gets into your blood and you want to keep doing it."
The chair next to her has remained empty since Gale's death in 2019. While that fact is still difficult to accept, Mary finds comfort in her work.
"With him gone, it was hard at first driving out here by myself," she said. "I finally got used to it sitting here and I've been doing my shifts by myself pretty much since he's been gone. The more I come, though, the easier it gets and it's something I look forward to every Monday and gets my week going. There's more to life than feeling sorry for yourself."
Gale was not Mary's only family connection to volunteerism at Adena. She and her mother began working with the hospital in the gift shop and café prior to the move to the current Adena Regional Medical Center campus.
"I wasn't feeling that well and seemed to think I needed something to do," Mary recalled. "I had a little one still at home and the other ones were in school and someone volunteered to babysit for me. Mother and I joined at the same time and someone asked us to join Guild 11, which was a volunteer guild at the time."
That would begin a journey through a variety of volunteer roles Mary would become involved with prior to her current stint helping visitors at the information desk. Besides that initial gift shop/café job, she also has helped deliver cards and worked with the mail, assisted at the surgery desk when it was outside the ICU and assisted in providing information services outside of same-day surgery. A one-day return to gift shop work, she remembers with a laugh, didn't go so well.
"I tried to do the gift shop one day and it happened to be a day when the fire alarms went off, so the doors were shut and with all the smells of the potpourri and such, I just couldn't handle it so I said I wouldn't be able to do the gift shop," she said.
Mary's mother continued her volunteer service, despite injuries suffered after being hit by a car, until her death in 2003.
Mary had her own challenges, having an episode in which she had serious tremors and couldn't walk. She was eventually diagnosed with multiple sclerosis, but prior to that, she said her doctors told her she likely would not regain the use of her legs.
"But I showed them different," she said. "I had four kids to raise and a mother that needed me, so I was able to get back on my feet and prove the doctors wrong. With Gale's help and everybody else's, I was able to walk again."
During that stretch, she said she learned a lesson about what was important in life that only furthered her desire to help others. She shares that desire now when asked about her decades committed to volunteerism.
"I tell people you really don't understand the appeal of it until you do it," she said. "You'd be surprised how many people will stop and smile and say something to you. One guy stopped the other day and wanted to know if he could pray for me, and I'll never turn that down. You just meet so many good people – I don't think I've ever met too many who weren't."
Michele Valentine, Adena's Director of Organizational Development and Diversity, Equity and Inclusion, said Mary is the perfect embodiment of Adena's Guiding Principle.
"They say the quality of your life will be determined by the quality of your contributions," Michele said. "When you work to improve the lives of others, your life improves automatically. In this life, we cannot always do great things, but we can do small things with great love. Mary certainly lives up to I Corinthians 16:14, 'Let all that you do be done in love.' She does a lot of small things with love, making every experience with her great."
Mary said volunteering is truly is a labor of love that she plans to continue doing.
"Helping people is what it's all about," she said. "It's meeting new people and seeing some who maybe you wouldn't otherwise see. I'll keep volunteering as long as my legs will carry me, I guess, or at least as long as my kids don't say, 'Mom, you're not driving anymore.' They're kind of the boss now."