What is a Nurse Practitioner?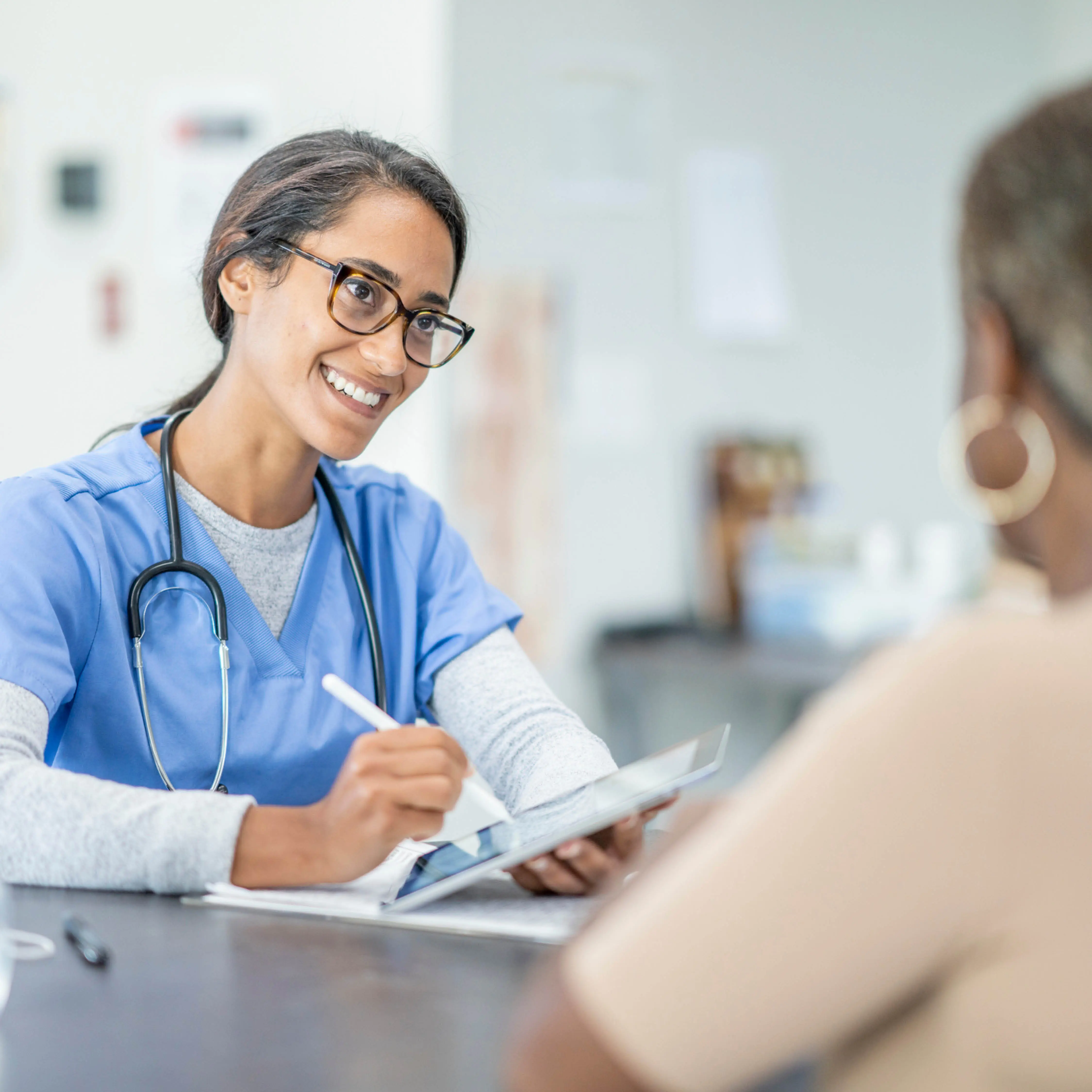 Learn more about the people who play an essential role in your care

When it comes to health care, the roles of doctors and nurses are pretty clear. But what about nurse practitioners?

With many parts of the country facing a shortage of primary care doctors and nurses, nurse practitioners (or NPs) are more popular than ever. According to the American Association of Nurse Practitioners, over 1.6 billion visits are made to nurse practitioners every year.

But what do they do?
NPs are health care providers who fill an increasingly important role in helping people get healthy and stay healthy by providing a wide range of acute, primary and specialty care services, either alone or with a doctor.

They are also highly-trained clinicians that blend clinical expertise in diagnosing and treating health conditions with an added emphasis on disease prevention and health management. NPs bring a comprehensive perspective and a compassionate, personal touch to health care.

There's a lot of overlap in the roles of nurse practitioners and physicians, but nurse practitioners focus on promoting the health and well-being of the whole person.

But there's still confusion between a nurse and a nurse practitioner.

"I think the confusion comes from terminology," according to Allison Butler, a certified Nurse Practitioner at Adena. "One might see or hear the word 'nurse' and automatically assume the provider can't provide care beyond what a nurse can. A nurse practitioner is actually an APRN (advanced practice registered nurse) and has advanced training, including several hundred clinical hours, to provide care beyond the scope of a nurse. In Ohio, NPs work in collaboration with a physician, and we are able to provide most of the services a physician can."

Education and training
Nurse practitioners must complete a master's or doctoral degree program and have advanced clinical training beyond their initial professional registered nurse (RN) preparation. This level of specialized training allows them to practice in a variety of health care settings. NPs also undergo rigorous national certification, periodic peer review, and clinical outcome evaluations, as well as adhere to a strict code for ethical practices.

Specialties
Nurse practitioners may sound like a jack of all trades, but they actually offer a wide range of specialty services, which include:

Acute care
Adult health
Cancer care
Family health
Gerontology health
Neonatal health
Pediatric and child health
Psychiatric and mental health
Women's health

Nurse practitioners' areas of expertise can include:

Allergy and immunology
Blood disorders
Cardiology
Dermatology
Emergency
Endocrinology
Gastroenterology
Lung and respiratory care
Neurology
Occupational health
Orthopedics
Sports medicine
Urology

Services
Nurse practitioners can provide a full range of primary, acute and specialty health care services, including:

Ordering, performing and interpreting diagnostic tests (such as lab work and X-rays)
Diagnosing and treating acute and chronic conditions such as diabetes, high blood pressure, infections and injuries
Prescribing medications and other treatments
Managing your overall care
Counseling
Educating you on disease prevention and positive health and lifestyle choices

NP vs PA
Nurse practitioners and physician assistants (or PAs) are both advanced health care practitioners with similar responsibilities, such as diagnosing illnesses and prescribing medications. Their training and paths toward certification are significantly different.

Nurse practitioners are trained in the advanced practice of nursing, where they focus on more specialized roles, such as neonatal care.
Physician assistants are educated in general medicine, and their training follows the medical model and covers all foundational aspects of medicine and specialties.

Reasons to see a nurse practitioner
NPs work closely with doctors, so you may see either one when you visit their office. There are advantages to seeing a nurse practitioner:

It can be easier to get an appointment – With the increasing demands on health care, it's often more convenient to make an appointment to see a NP instead of a doctor.
They do more to treat your overall health – NPs are well trained in wellness programs and counseling to provide you with the best primary care.
They are great listeners – NPs can spend more time with you, leading to a better knowledge of your health history. They encourage you to talk about diet, lifestyle, physical health and mental health and paint a clearer picture of the necessary steps towards better health.
They are team players – NPs are in constant communication with other doctors, nurses and specialists to provide you with the most stress-free care possible, especially when you need tests and acute care.
They are your long-term partner in health – A nurse practitioner can follow up with you throughout your entire journey to better health. If you consult with a nurse practitioner, they focus on the bigger picture of health and factor in your overall lifestyle to better assess every aspect of your health.
They focus on YOU – Nurse practitioners will work with you personally to take the best steps forward with your health. They can also personally contact your specialists and recommend medications or lifestyle changes to move you toward better health.

Helping you get the care you need
Nurse practitioners are here for your care. They are a valuable partner in health to make sure you always have quick and easy access to the care you need. If you ever make an appointment to for a doctor and end up seeing a nurse practitioner, you are in good hands

"Give nurse practitioners a try, and I doubt you'll be sorry," says Allison. "We are originally trained as nurses and have the empathy and desire to care for people as all nurses do. And we have additional training to be able to provide you with advanced care as nurse practitioners."